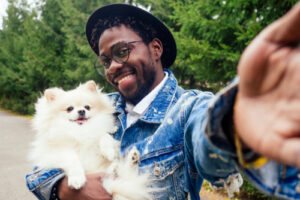 Want to look better in your online dating profile? Posting a picture of your cute self with your cute pet can get you some matches, but if you're not smiling wide then you're falling short. Your smile is the top draw when it comes to finding a love connection, especially online where photos and videos are the bulk of what you can use to present your best self in that format. A smile makeover shows that you look good and are worth meeting in person.
Good Teeth Show You Take Care of Yourself
When someone lands on your profile, the first thing they do is review your photos. That physical attraction is important for everyone, and while some people will move on to the written details, others will just move on if the photos don't deliver.
When your teeth look great in that first photo of you, the convey many things:
You're someone who takes care of themself.
You prioritize your appearance.
You aren't hiding anything behind a closed-mouth smile.
Online daters want authenticity and, frankly, good looks too. They may not realize just how much of an impression teeth make, but they do. Your teeth are the focal point of your face and good teeth are one of your very best assets.
Look Happy and Vibrant
It doesn't matter if you're looking for love in your 20s or your 50s, you want potential matches to see you as happy and vibrant, embracing and loving life, ready for adventure, ready to meet them and see if there's a love connection. Photos tell this story for you – and so do your teeth.
Worn-out teeth, which are natural as you age, are not inevitable. If you keep up with your oral health and see your NYC cosmetic dentist for tweaks as needed, your smile can stay fabulous for years. But if you're in a position where your teeth have never been what you want them to be, regardless of your age, it's time to talk smile makeover.
What do you need to get the white, bright, straight, flawless smile you've always craved? Maybe prepless veneers are the right choice. Maybe your smile makeover is a combination of several treatments, from porcelain crowns to teeth whitening. Everyone is different when it comes to a new smile – just like everyone is different when it comes to a love match.
Make a Quick Change
If you're feeling especially defeated in the love realm, and you want to make a change right now, right away, there are a few cosmetic dentistry treatments that can give you a stunning smile makeover quickly.
Professional teeth whitening: In just one dental visit, you can have a whiter smile that looks perfect even if it's not.
Porcelain veneers: Only two dental visits are needed to completely transform the entire look, width, symmetry, and beauty of your smile using porcelain veneers.
NYC Lumineers: Get the veneer treatment without the invasiveness with this customized smile upgrade.
It's time for love to find you – let your smile help along the way. Schedule a consultation with Dr. Michael J. Wei at his Midtown dental office or submit a Smile Virtual request online.