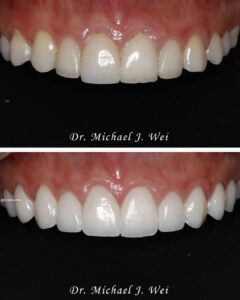 Every smile makeover is unique. Some patients choose to get porcelain veneers, while others need restorative dentistry first and then continue their upgrade with cosmetic dentistry procedures. For America G., her smile aesthetics were troublesome to her and she craved a change. She received an incredible NYC smile makeover, made possible thanks to the efforts and expertise of cosmetic dentist Dr. Michael J. Wei.
The America Smile Story
America was unhappy with the look of her smile. She already had four porcelain veneers, but they didn't look natural and their color was off. The rest of her teeth were discolored, chipped, irregularly shaped, and flared out, creating a smile that made her feel self-conscious. Instead of undergoing multiple dental upgrades, America worked with her Manhattan cosmetic dentist to develop a stunning smile transformation.
To improve America's teeth, Dr. Wei made several smile edits:
Replaced the four old porcelain veneers.
Added six porcelain veneers to enhance her smile.
Crafted the entire smile makeover in only three dental visits.
The result? A stunning smile transformation. The changes brightened America's face and she loved the results. Her new smile gave her a much-needed confidence boost and she now receives compliments on her new smile all the time.
Veneer Options
Many people wish for teeth that look like a VIP's, but they think such a change is inaccessible. It's not. Anyone with the right foundation for a new smile can reap the rewards of a porcelain veneers smile makeover. If you're fortunate enough to work with an expert like Dr. Wei, you can discuss several types of veneers that can transform your teeth:
Prepless veneers: Just as their name states, prepless veneers do not require any sort of major work to be done on the natural teeth before the porcelain is put in place. Only a cleaning and light sanding are all that is needed.
Microthin veneers: Made of incredibly thin porcelain, Microthin veneers sit on top of the teeth and do not demand that any tooth enamel be shaved away first.
Traditional veneers: These are the original veneers that require a significant portion of tooth enamel to be removed to make room for the porcelain shields. Some people require this option because of the condition of their teeth, and it delivers a strong, durable, long-lasting smile makeover.
Get Your Own NYC Smile Makeover
Want to see more successful smile makeovers? Visit the Smile Gallery and look at the before and after photos of patients who ended up with incredible new smiles, thanks to Dr. Wei. You can see clearly from these images that your smile can be in any kind of broken-down or imperfect state and still be improved so that it looks flawless, healthy, and natural.
Don't be afraid to ask your NYC cosmetic dentist for what you want for your smile. If you don't know what's best for your teeth, schedule a consultation or submit a Smile Virtual form to get a personalized response with suggestions and recommendations. There is always a way to make your smile better, and Dr. Wei is thrilled to be the resource who helps you achieve success. Contact us today to make an appointment.