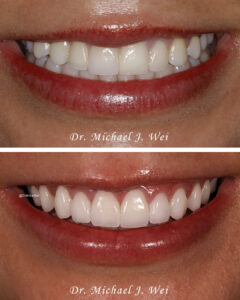 Sometimes when a dental patient undergoes cosmetic dentistry the results aren't what they envisioned. This was the case for America G., who was unhappy with the aesthetics of her smile. She had four porcelain veneers on her front top teeth, and they were far from perfect. America went to Dr. Michael J. Wei for a solution and he delivered an amazing smile makeover using minimal prep porcelain veneers.
America's Smile Makeover
It took only three visits to Dr. Wei's Midtown Manhattan cosmetic dentistry office for America to receive her customized smile makeover. Some makeovers take two visits, others take longer, depending on the procedures each patient undergoes. The most important thing to know is that you will end up with a stunning new smile at the end of these visits that is perfect and, most of all, perfect for you.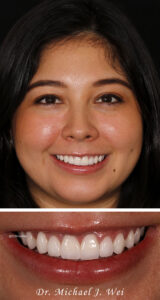 Through the placement of 10 minimal prep porcelain veneers, America's smile and self-confidence were transformed. Here are the particulars of her case:
Had four porcelain veneers that were not aesthetically pleasing.
Teeth were discolored, chipped, irregularly shaped, and flared out.
Old veneers were replaced with four new minimal prep porcelain veneers.
Six veneers were added to expand and enhance her smile.
Getting eight to 10 veneers widens and broadens a smile for a more complete makeover. For America, and any patient who undergoes this type of change, the new smile brightened her face and she was thrilled with the results.
The Characteristics of Minimal Prep Porcelain Veneers
There are several types of porcelain veneers. All are excellent options when carefully designed, crafted, and applied by an experienced NYC cosmetic dentist. However, many patients are eager to undergo a smile makeover that is as minimally invasive as possible and changes their natural teeth very little. Minimal prep porcelain veneers fit this description. Here's how they work:
Preparation: Teeth are cleaned and lightly sanded to eliminate shine, surface stains, and minor imperfections.
Design: Color and thickness of the minimal prep porcelain veneers is configured, as well as length, width, shape, and translucency.
Optional add-ons: Some patients with excess gum tissue choose a smile makeover that includes laser gum dentistry before the veneer procedure to further widen and broaden their smile.
Veneers: Once the minimal prep veneers have been customized by the dental lab, they are delivered to your Manhattan dentist office and applied to the teeth for a complete, stunning new smile. They are incredibly thin and complement skin tone, gender, and overall appearance while also blending with natural enamel color underneath.
Get Your Own Personalized Smile Makeover
See America's full transformation on Dr. Wei's Instagram page @DrMikeWei or visit his Smile Gallery to view dozens of stunning smile makeovers featuring all types of cosmetic and restorative dentistry. If you're unhappy with your own teeth, if you feel self-conscious or embarrassed by the appearance of your smile, schedule a consultation with Dr. Wei – or submit a Smile Virtual form – to find out what kind of treatments can make a difference in your look. There is always a solution for a lackluster smile. You deserve to be free to reveal your teeth to everyone and always feel good about it.