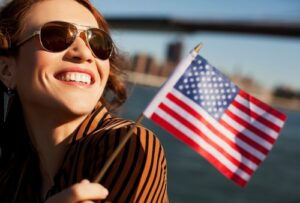 Some people like to celebrate Independence Day with barbecues and fireworks. If you're truly ready to pay homage to your freedom, make this the year that you free your worn-out smile from its confines with customized NYC full mouth reconstruction. These permanent changes will give you a healthy, strong smile that is fully functional and looks flawless.
What Is Full-Mouth Reconstruction?
Some people like to call full-mouth reconstruction a smile makeover, which is fair. After all, the changes your NYC dentist makes to your teeth are a beautiful makeover. The difference with NYC full mouth reconstruction, though, is that the main goal is to make sure teeth, jaw, and bite work together without pain or problems. Only once the foundation of your smile is sound does the cosmetic angle come into play.
There are many viable treatments that fit into the reconstruction category, but every worn-out smile will require different attention. Your consultation with your dentist will include an examination of your oral health, discussion of smile goals, and recommendations about what steps to take and when. It may take weeks or months, but your transformation will be amazing and permanent.
Do You Have a Worn-Out Smile?
If you're uncomfortable when you eat, embarrassed when you smile, and reluctant to show off your teeth in photos, chances are you need dentistry for worn-out teeth. Here are some of the most common signs of the need for NYC full mouth reconstruction:
Worn tooth enamel: Worn teeth from chronic grinding or naturally weak tooth enamel makes you susceptible to dental problems on the crowns of your teeth and under the gumline.
Chipped and broken teeth: Multiple deteriorating teeth leave you open to bacteria and food particles that get into the meat of a tooth and cause infections.
Mouth pain and soreness: Broken-down teeth indicate a problem, but how teeth feel and function is critical too. Chronic jaw pain might mean there is a problem with overall mouth anatomy or the TMJ, which can be corrected with neuromuscular treatments or a mouthguard.
Toothache: When a tooth hurts, it's most likely decay or infection. This issue will not go away on its own – the only solution is to have it fixed by your NYC restorative dentist.
Restorative Dentistry for a Worn-Out Smile
NYC full mouth reconstruction is customized to each patient. You might need two treatments or 10, depending on the level of deterioration and pain. Some of the most common restorative dentistry treatments included in full mouth reconstruction include:
Gum disease therapy
Dental implants
Porcelain crowns
Root canal therapy
Tooth extraction
Tooth-colored fillings
Prepless veneers
Teeth whitening
This is not an exhaustive list and there is not just one way to get to the freedom of a complete, healthy, comfortable, attractive smile. All you need is patience to get all the work done and the support of an experienced Manhattan dentist who is committed to improving your oral health.
Get a Customized NYC Full Mouth Reconstruction
Celebrate Independence Day by making the decision to free yourself from an unhealthy or uncomfortable smile. Schedule a consultation with Manhattan cosmetic dentist Dr. Michael J. Wei or submit a Smile Virtual consultation online and receive personalized video recommendations. Contact our office today.