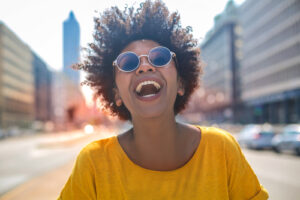 There are many ways people try to move past feeling self-conscious – dieting, a new wardrobe, and a fresh hairstyle are some of the most common choices. One of the biggest things that makes a person feel flawed is less-than-perfect teeth. You might be embarrassed every time you speak or smile, especially if you see others' eyes drift down to your mouth. If you get a customized smile makeover using minimal prep veneers, though, you'll never feel self-conscious again.
Fix What's Broken and Fill Out Your Smile
Every flawed smile has its own needs and sometimes there are problems veneers can fix alone and something multiple cosmetic dentistry procedures are necessary:
Repairs for chips or cracks
Cover-up for stains or discoloration
Elimination of gaps
Elongation of short teeth
Correction for crooked or misaligned teeth
No matter what treatments you undergo to achieve a perfect smile – from laser gum surgery to teeth whitening to porcelain crowns – the biggest goal of your NYC cosmetic dentist is to create balance. One of the best ways to get there is with minimal prep veneers. The color of your teeth is evened out and the smile is filled out with customized veneers that build a broad, full smile.
Practice for Perfection
There will be plenty of discussions with your Manhattan cosmetic dentist about the kind of smile makeover you want and what your minimal prep veneers will look like. From length to width, color to shape, everything is carefully planned out for perfect. Thankfully, there is an opportunity to see your new smile before it's permanent through temporary veneers.
The temporary veneers look like natural teeth and are high-quality like permanent veneers. They are put in place to give you an idea of how your smile will turn out while you wait for your permanent veneers to be ready. The temporaries are adjusted and reshaped and serve as the blueprint of your final minimal prep veneer smile.
Always Look Like a VIP
Think a smile makeover with minimal prep veneers can't possibly work for you? Take a few moments to look over the Instagram page of @DrMikeWei. You'll quickly discover the magic he is capable of creating through prepless veneers and other cosmetic dentistry and restorative dentistry treatments like porcelain crowns and dental implants.
Your smile can be transformed – and you can be transformed right along with it. A smile makeover gives you teeth that are flawless, natural-looking, white, straight, and beautiful. In other words, you'll have a perfect smile that makes you always look like a VIP, no matter what field you're in, whether you're in front of people or a camera, online or offline, in person or over the computer.
You deserve to be confident and feel good about yourself and your smile. No matter what you're wearing or how you feel or where you go, your smile makeover will deliver and make you look like a star. Find out what kind of cosmetic dentistry is right for you and if you're a good candidate for minimal prep veneers from Dr. Michael J. Wei, NYC cosmetic dentist. Schedule a consultation at his Midtown office.