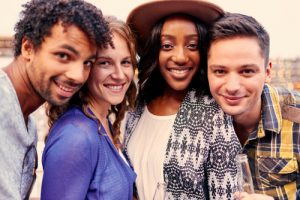 If you don't love your teeth, then you probably don't smile very much. And when you do smile, you likely have thoughts such as, "OMG, did they see my stained teeth? Are they judging my dark fillings? Did I hide that hole in my smile?" The last thing you want to feel as you walk the streets of Manhattan is self-conscious. Even though serious faces are the norm in this urban destination, good teeth are always in style, whether you model or waitress, trade stocks or go to college, deliver pizzas or conduct charity work.
Are people talking about your bad teeth? >>
The benefits of a good smile are innumerable, but here are six of the biggest reasons you should focus on a smile makeover to enhance every aspect of your life:
1. Emotional boost: Not only do you, as the smiler, get a boost from flashing your pearly whites, but the people you bestow your smile upon also feel the transfer of positive feelings. Smiling is not only good for you, it's good for others!
Become a selfie star with a smile makeover >>
2. Mood stabilizer: Smiling is therapeutic, lowers blood pressure, and reduces stress hormone levels while increasing levels of mood-enhancing endorphins. According to a British study, the brain stimulation you get from 2,000 chocolate bars is equivalent to one smile.
3. Non-verbal communication: Don't speak someone's language? No problem. Smiling means the same thing in every language, so you always have a method for communicating your pleasure or happiness to another person.
Staging is everything: Disguise imperfections with a perfect smile >>
4. Better nutrition: When your teeth work properly and are securely in place, you can maintain better nutrition. Missing teeth, loose teeth, or broken teeth can make it difficult for you to chew the proteins your body needs or crunch into the fruits and vegetables that are essential for a balanced diet. Dental implants and porcelain tooth crowns are effective, long-lasting, natural-looking solutions.
5. A healthy life: A Wayne State University study from 2010 found that Major League Baseball players who smiled on their 1952 trading cards lived an average of 79.9 years. The players who didn't smile? They lived an average of 72.9 years. You can do a lot with five years, and no matter what age you are now, a smile makeover can be customized just for your oral health needs.
Should you choose a facelift, fillers, or a smile makeover? >>
6. Physical enhancement: Simply enough, a new smile will make you look younger, happier, healthier, smarter, and wealthier. Need any more convincing?
Want to be a celeb? Get a smile makeover in Manhattan >>
A smile makeover can change your life in Manhattan permanently. You will be more confident about going on that first date, approaching new people, applying for different jobs, or presenting yourself flawlessly at an interview. Whether you need restorative dentistry, cosmetic dentistry, or a combination a both, your customized smile makeover is waiting for you at the Manhattan cosmetic dentistry office of Dr. Michael J. Wei. Make your appointment today and find out how to enjoy all the amazing benefits of your smile.