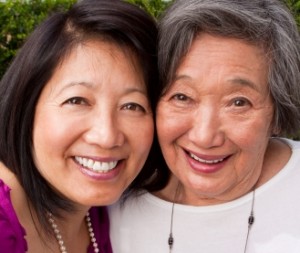 In our culture, people are often defined or categorized by their age. And we accept these arbitrary limitations as gospel. But if a person can become a CEO at 25 or complete an Iron Man competition at 70, a smile makeover is a possibility for everyone, young and old alike. Age is just a number – it's your state of mind that matters most.
1. Everyone can use a confidence boost.
When you feel good about your smile, you'll feel good about yourself and how you come across to other people. If you're ashamed of your gapped teeth, aging smile, gummy grin, or misaligned smile, then it's time to make a change that will give you the confidence to smile broadly and often. It doesn't matter if you want to look better for your first job interview, your daughter's wedding, your 50-year high-school reunion, or your senior portraits. A smile makeover will make you look like a brand new you.
Is it time to upgrade your cosmetic dentistry? >>
2. Smile makeover solutions are not classified by age.
You don't have to be "old" to qualify for dentures. And you don't have to think that dentures are your only option when you're missing teeth. Spaces in your smile can be corrected with permanent and natural-looking dental implants, and this restorative dentistry solution is a boon to the wearer, giving you full functionality and trust in your smile again, no matter what age you are. What is important is replacing any missing teeth before the shape of your face begins to change, reflecting that your smile is not fully intact. One of the side effects of missing teeth? You look older than you actually are, and not in a good way.
Addressing the unique dental needs of baby boomers >>
3. Your appearance makes all the difference.
Whether you're headed out for a first date with someone new or are up for a coveted promotion at work, the impression you make on the people you're interacting with will make all the difference in the success of these encounters. You want to look good for that potential love match and a new smile can reinforce that you believe in yourself, which means you have plenty of offer someone else. And as accessories go, a new hairstyle or suit can make you look the part for the job you want, but that mega-watt grin is what's really going to make the biggest impact. A solid, stunning smile shows others that you take care of yourself – and that you're serious about taking care of them too.
How celeb smiles influence dental trends >>
Define Your Own Smile Makeover
The beauty of smile makeovers is that they're customized to every individual. There are no set number of components that must be included to qualify as a smile makeover. Perhaps you only need teeth whitening to improve your grin – that's a smile makeover. Maybe you have gum disease and need to have the foundation of your smile repaired before it is fit for dental implants and porcelain veneers. That's a smile makeover too.
The only thing you need to worry about when you're getting a new smile isn't how old you are or what components are included in the makeover, it's whether the makeover is right for you. And if your smile is making you unhappy or preventing you from looking like your best self, then the time is always right for an upgraded smile. Visit Manhattan cosmetic dentist Dr. Michael J. Wei to discuss the possibilities for your smile makeover.