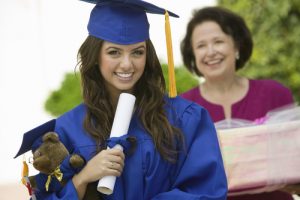 Graduation is a major milestone. You want your gift to be memorable. Money and gift cards are always appreciated by graduates. However, if you want to set a family member, friend, or apprentice on the road to success, whether they are moving on from high school or college, a smile makeover is a unique and powerful gift.
How long will it take to complete a smile makeover? >>
Are You Telling Me I Have Bad Teeth?
If you are especially close to the graduate, you know what they want out of life, whether that's to skip further schooling and land a job immediately or to pursue advanced degrees and a career in the spotlight. No matter what goals the graduate has in mind, there is no question that they must be able to make a memorable first impression and their smile plays a major role in that.
While some people might suggest that the gift of a smile makeover is insulting, that you're telling the graduate their smile isn't good enough, we disagree. Chances are good that the millennial graduate in your life has looked at a celebrity or well-known figure and thought, I wish I had white teeth like that.
Smiles are memorable, and bad smiles are especially noticeable. Professionally speaking, a smile can go a long way toward helping people land the interview, the job, the sale, or the promotion. Who wants to look at broken-down teeth on a salesperson, attorney, teacher, nurse, realtor, interior designer, hair stylist, and so on? Moreover, what graduate wants to feel – even after all they've achieved – that they're not good enough because they're self-conscious about their teeth?
Hey, serious New Yorkers: Here are 6 benefits of smiling >>
Cosmetic Dentistry Gifts for the Graduate
There are many ways to gift your graduate with a smile makeover. Here are just some of the options that will turn them into a selfie star:
Teeth whitening: Whiter teeth can make even misaligned or gapped teeth look 100 times better. This one-hour, in-office professional teeth whitening treatment will go a lot further than any over-the-counter quick-fix, and the grad will feel amazingly clean, fresh, new, and ready to conquer the world.
Invisalign: Perhaps the grad was too busy focusing on academics to think about their teeth. Now that the time has come to get their nose out of a book, they realize that the braces mom and dad suggested years ago were the right choice. The idea of becoming a metal mouth at this point, however, is unappealing. Invisalign makes it possible to straighten teeth under the radar so nothing in the graduate's new life is interfered with – from entry level gigs to first dates.
Lumineers: The young graduate wants a celeb smile. Give them that gift with Cerinate Lumineers. This cosmetic dentistry procedure the gentle, non-invasive alternative to the transformative porcelain veneers. Opting for Lumineers means your smile will be white, natural-looking, and utterly flawless.
The graduates who already call Manhattan home know that the competition in any field will be steep. The graduates who are moving to New York City for the first time will quickly learn that they need assets to set them apart from the competition, in all parts of their lives. Make that notable element stunning teeth instead than bad teeth. Contact Dr. Michael J. Wei at his cosmetic dentistry practice in Midtown Manhattan to schedule your graduate's graduation smile makeover consultation.