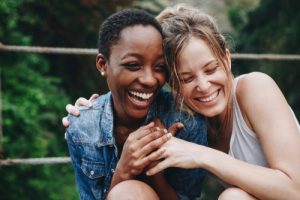 A porcelain tooth crown is the sweetheart of restorative dentistry. This tooth restoration is versatile, strong, long-lasting, and natural-looking. You can't ask for more than that when you need a way to make a tooth – or teeth – more durable and better-looking.
If you have a cracked tooth…
A cracked tooth is problematic in many ways, though the severity of the complications depends on the severity of the crack. Surface cracks in tooth enamel don't usually affect the aesthetics of your tooth all that much. In fact, some people don't even realize they have a cracked tooth until they visit their New York City dentist for their annual teeth cleaning and dental exam.
If a tooth is cracked it is more susceptible to developing decay or an infection. All you need is a hairline crack to allow bacteria and food particles to find their way inside the tooth and wreak havoc. A crown protects the tooth from invasion when other restorations aren't enough.
If you need root canal therapy…
Root canal therapy and porcelain crowns go hand-in-hand. Typically, if a tooth is so compromised that root canal therapy is required to eliminate the pain, a porcelain crown is needed to help protect the tooth after the root canal therapy is complete. The crown acts as a cap on the tooth in question, preventing bacteria from getting inside, minimizing the chance of further damage or infection, and supporting the tooth so it is strong.
If you are getting a dental bridge…
A porcelain fixed dental bridge is used to bridge the gap between teeth when one or more teeth are missing. The bridge itself is held in place with small metal clasps but, for extra insurance, and to hide the telltale signs of the bridge, porcelain crowns are used at either end to serve as anchors, holding the restorative dentistry in place and making all of your teeth look natural.
If your tooth is discolored and misshapen…
Often if a tooth is unsightly, it's for more than just one reason. A discolored tooth may be that way because of damage to the tooth, which also compromised the tooth's enamel, leading to chips or breaks or a completely misshapen tooth. Whatever the reason for a tooth that just doesn't look like a tooth should, a porcelain crown covers up all the undesirable elements and makes the tooth fit into your smile like it was always there.
If your tooth is chipped or fractured…
Hitting your mouth on the steering wheel in a car accident. Getting hit in the mouth during a sports game. Falling and hitting your mouth. Biting down on ice or hard candy. Opening a package with your teeth. Dental damage can occur in many ways, but the repair can often be the same: a porcelain crown. Crowns correct fractured teeth, cover damaged teeth, and conceal chips. If teeth are weakened for any reason, a crown also minimizes the possibility of further damage or the development of decay.
A Porcelain Crown Can Work for You
Every porcelain crown is customized to fit just right over a problem tooth. The size, shape, and color will blend seamlessly with the rest of your teeth. If you have a problem tooth and need restorative dentistry, it's time to learn more about porcelain crowns. Make an appointment with Midtown Manhattan cosmetic dentist Dr. Michael J. Wei.