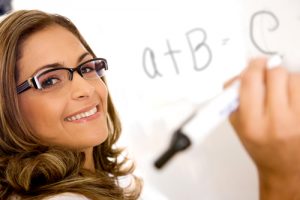 College classes are underway, primary and secondary schools are days away from starting, and teachers are getting used to the new normal as is the case every fall. Whether you teach at a private school or public school, the demands are the same – know your stuff, teach the kids well, help them excel, and do it all with a smile. If your teeth aren't in great shape, it's time to get yourself a back-to-school smile makeover.
There Are Parents to Impress
Parents judge the appearance of their kids' teachers, whether you like it or not. They're looking at your clothes, posture, demeanor, weight, cleanliness, and, of course, your teeth. After all, you're spending more time with their children than they are. They want to know that their kids are in good hands.
Having a good smile makes you look more competent, smarter, and simply on top of your game. Lesson planning is important – but so is taking care of yourself, and your oral health.
You Have Kids to Teach
Whether you're up close and personal with preschoolers or kindergarteners, making a mark with elementary school students, being judged by high-schoolers, or imparting wisdom to college students, students are studying you all day long.
Kids may not pay much attention to your teeth – unless, of course, they stand out in a bad way – but when you're teaching, whether in a group or one-on-one, you're in close quarters with your students. Even if they don't say anything, you may worry about bad breath, stained and yellow teeth, and every imperfection being magnified.
The Price of a Smile Makeover
A teacher's first concern may be whether you can afford a smile makeover. The good news is this: Even in Manhattan, you can upgrade your smile on your budget. Smile improvements don't have to be large or costly to make a major difference in your appearance.
If you are prepared to really invest in your teeth and do a complete overhaul, porcelain veneers that are created and placed by an experienced NYC cosmetic dentist will give you an amazing smile makeover. This treatment usually takes two visits and the result is a flattering, natural-looking smile that covers all the imperfections in your teeth.
If you need a quick upgrade for some pesky imperfections, there are many cosmetic dentistry options. Professional teeth whitening will give you the most bang for your buck, brightening your smile several shades whiter so even if your teeth are crooked or gapped or otherwise flawed, they'll look close to perfect. Cosmetic tooth bonding can fix chipped, jagged, or discolored teeth quickly, affordably, and the procedure is non-invasive.
Head to the Front of the Class with a New Smile
School may have already started, but it's never too late to brighten your position at the head of the class. Administrators want their teachers to do a good job, and they want them to look as good as possible too. After all, you represent their institution, and yourself. Schedule an appointment with Dr. Michael J. Wei at his Madison Avenue office in Midtown Manhattan to talk smile makeovers. It's never too late to learn what's good for your smile.