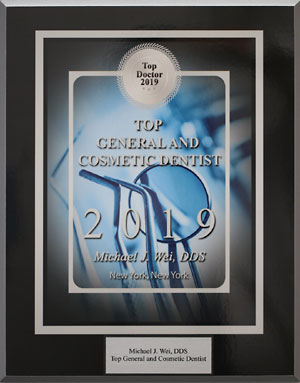 Doctors selected for an award from the Top Doctor organization are considered at the top of their field. Dr. Michael J. Wei is no exception, and this year he has been honored as a Top General and Cosmetic Dentist by Top Doctor. "I am extremely happy and privileged to receive this distinction," Dr. Wei said. "I am committed to providing my patients with life-changing smile makeovers and am pleased to be recognized in my field. I share this award with my entire team."
Characteristics of a Top Doctor
Dr. Wei has dedicated himself to recreating smiles, optimizing oral health, and helping all his patients develop their healthiest and most beautiful smiles ever. He is well-known and well-respected among his community of patients and peers, and has established a strong career. Years of education, experience, and self-improvement have made Dr. Wei an in-demand cosmetic dentist in Manhattan. He is especially sought after to create smile makeovers using:
Porcelain veneers: Conceal every smile complaint with flawless, customized porcelain veneers that look natural, are stain resistant, and last for decades.
Full-mouth reconstruction: Broken-down smiles don't look right, and they don't feel good either. The procedures used in full-mouth reconstruction correct problems with jaw, muscles, and alignment while also beautifying smiles.
Laser gum recontouring: Gummy smiles are eliminated and beautiful teeth are revealed in this fast and easy smile makeover that lasers away excess gum tissue.
Things a Top Doctor Does
Dr. Wei is known for his excellence in cosmetic dentistry, restorative dentistry, and general dentistry. His patient offerings go far beyond the expected menu of services though. Dr. Wei's experience and expertise are notable for many reasons, including:
Continuing education: Wei is dedicated to staying abreast of the newest developments, technologies, and treatments in dentistry. He attends workshops, conferences, and complete continuing education classes to expand his knowledge and offer more options to his patients.
Virtual consultation: Ready to upgrade your smile but not sure what kind of cosmetic dentistry you need? Through Smile Virtual, you can upload some selfies, tell Dr. Wei what's bothering you about your smile and what you'd like to change, and, in a few days, you'll receive a personalized video message in return, outlining his suggestions for your smile makeover. It's your own personal smile consultation – and you don't even have to set foot in the dentist's office!
Smile design: Of course you want to see what you would look like with a new smile. Smile design, however, is far more advanced than just a great photo filter. Through this technology, Dr. Wei will show you what your smile makeover will look like, whether you've opted for porcelain veneers, Invisalign, dental implants, or other cosmetic or restorative dentistry treatments. You can see yourself on the screen, take home copies of the soon-to-be new you, and live with the idea of a new you so you feel comfortable with your decision to take the plunge and upgrade your smile.
Ready to see a top dentist? Schedule your appointment with NYC cosmetic dentist Dr. Michael J. Wei or request a Smile Virtual consultation. You deserve a beautiful smile you're proud to show off – Dr. Wei will make it happen.