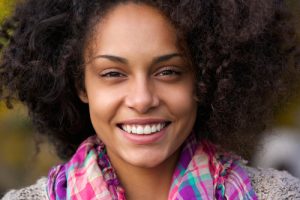 When you're self-conscious of your gummy smile, it affects every area of your life. You may hold back when it comes to speaking up or drawing attention to yourself, and you may avoid photos or smile with your mouth closed to avoid revealing your gummy smile. There are several ways to change the appearance of your gums for good – and it starts with a consultation with your Manhattan cosmetic dentist.
The Magic of Laser Gum Recontouring
Laser gum recontouring offers fast results – one procedure, quick healing, and you will have less gum showing than ever before, permanently.
The sophisticated dental laser is designed to trim and recontour gum tissue. This device is carefully calibrated to address your specific needs so just the right amount of excessive gingival display is removed. The laser is maneuvered around the teeth, removing gum tissue along the way, reshaping the gum line to show more tooth enamel than gum.
Sounds daunting? It's not. This procedure does cut away gum tissue, but the actual work is more comfortable than ever before, minimally invasive, and can be completed in about 30 minutes at your Midtown dentist's office under local anesthesia. In just one day you can have a brand new you – now that is something to smile about!
Problems Corrected by a Laser Gum Lift
Say goodbye to a gummy smile or short teeth with a laser gum lift. This cosmetic treatment addresses the side effects of:
An overgrown upper jaw
A short or high upper lip
Enlarged gums
Poorly erupted teeth
Laser gum recontouring creates a symmetrical smile, putting tooth enamel and gum tissue into proportion so your face and smile are both balanced and natural-looking. What your Manhattan cosmetic dentist is working to achieve is a flattering ratio of tooth to gum. A laser gum lift:
Lengthens short teeth
Equalizes uneven gum line
Makes it easier to have healthy teeth and gums
Delivers immediate, dramatic results
Combining Cosmetic Dentistry Procedures
A laser gum lift is often used in conjunction with other cosmetic dentistry procedures, particularly porcelain veneers. If you have complaints about the appearance of your gums and aesthetic issues with your teeth, whether they're too short or discolored or chipped or gapped, laser gum recontouring and veneers are a powerful combo.
Your smile makeover will be unique to you, whatever your concerns about the appearance of your smile and whatever your smile goals. Ultimately, if you have too much gum and not enough teeth showing, your cosmetic dentist can lengthen your teeth for a gorgeous, flawless smile.
Find out more about what's possible for your gummy smile. Schedule an appointment at Dr. Wei's Madison Avenue office in Midtown Manhattan.