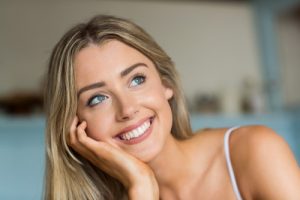 The people who get porcelain veneers have thought long and hard about their decision. They have elected to make the investment in this cosmetic dentistry because they know the result will pay dividends. Everyone who ultimately settles on veneers, however, gets there on their own timeline. Sometimes it's obvious that veneers are the way to go, sometimes you need a little more convincing. Here are just some of the signs it's time to get porcelain veneers.
1. You've tried everything else.
Sometimes cosmetic dentistry patients are reluctant to pursue porcelain veneers because the procedure is on the higher end of smile makeover treatments. Instead, patients attempt a variety of other methods to get the kind of smile they want and save money, from over-the-counter whitening to mail-order orthodontics. If this sounds like you, chances are, you've probably been disappointed.
If you've reached the point where your smile needs a bigger intervention, it's time to talk porcelain veneers. This smile upgrade is the most effective, longest-lasting way to get a flawless smile. What you put into it you will get out of it, tenfold. There won't be mediocre results in the hands of an experienced Midtown cosmetic dentist – you'll have perfection.
2. New versions are available.
One of the things that makes people drag their feet about veneers is the knowledge that healthy tooth enamel will need to be removed to make room for the veneers. This is no longer the case. There are innovations in cosmetic dentistry all the time, and new methods for placing veneers are non-invasive and reversible.
Microthin veneers and prepless veneers both use super-thin porcelain shields to conceal the original teeth and perfect your smile in the process – and no grinding or sanding of enamel is required to make room for the veneers. Makes this smile upgrade much more appealing, doesn't it?
3. You envy everyone else.
Do you regularly look at the smile gallery on your NYC dentist's website? Do you wish for the smile makeovers that those patients have? Maybe you envy the smiles of your friends and colleagues and wish yours could look just as good. It can look that good. There is no reason to wait for your own perfect smile.
Some people avoid pursuing cosmetic dentistry because they think they're the wrong age or profession or gender to get a smile upgrade. There are no requirements for a smile makeover other than a healthy foundation – all the rest is simply desire and the knowledge that a beautiful new smile is what you want.
4. You want one solution.
Understandably, most people don't care to spend hours upon hours in the dentist's chair. When you have multiple aesthetic complaints about your teeth, you only need two to three dental visits to upgrade your smile with porcelain veneers – and they correct everything all at one time.
Instead of Invisalign and teeth whitening, instead of crowns and dental bonding, instead of any other combination of cosmetic dentistry, porcelain veneers are the one procedure that correct everything at one time – chips, cracks, stains, discoloration, gaps, misalignment. You can get perfection in one treatment.
Ready to talk veneers? Schedule an appointment at Dr. Wei's Madison Avenue office in Midtown Manhattan for your consultation. Or, if you're still thinking, take advantage of Smile Virtual, the video consultation you can do from the comfort of your own home.