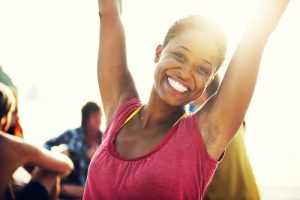 The warmth is here and you're ready to smile. Are your teeth ready though? You don't have much time to get your smile looking new and beautiful if you're headed out of town, to the beach, or elsewhere to enjoy your summer. Discover which cosmetic dentistry treatments can improve your look in no time.
Teeth Whitening
Effective, long-lasting, safe, painless – all these terms describe professional teeth-whitening treatments. A teeth-whitening from your dentist trumps all over-the-counter treatments, no matter what kind of perfection they promise. There is no way to get the kind of powerful results a dentist provides without a NYC cosmetic dentist's bleaching formula.
Plus, there is plenty of user error where DIY teeth whitening is concerned. Many people complain of irritated gums, sensitive teeth, and spotty results when they try to use a drugstore solution. A professional solution will be painless and deliver impressive results – in just about an hour – that are multiple shades whiter than your current tooth enamel.
Laser Gum Recontouring
If you're embarrassed by excess gum tissue or short teeth caused by overgrown gums, laser gum recontouring can correct the problem in one dental visit. The sophisticated dental laser trims, reshapes, and recontours gum tissue in a simple and minimally invasive procedure. It can be completed in about 30 minutes at your Midtown cosmetic dentist's office and healing is usually complete within an hour, which means your smile is quickly new again, too.
The goal in this procedure is to create a flattering tooth-to-gum line. With a laser gum lift, you can lengthen short teeth, equalize an uneven gum line, and make healthier gums and teeth possible. It's safe to say that if you're looking for dramatic, immediate, long-lasting results, you'll get them with this treatment.
Cosmetic Tooth Bonding
When you have a tooth or two that makes you feel self-conscious and unattractive, you don't have to live with a marred smile. Cosmetic tooth bonding is intended for the most niggling problems that interrupt a seamless, white smile.
A damaged, jagged, misshapen, or discolored tooth can be restored to a normal shape, size, and color so it blends in with the rest of your smile thanks to cosmetic tooth bonding. This treatment is a powerful way to spruce up your smile for summer because it's done quickly – about 30 minutes per tooth – demands no downtime for recovery, and is non-invasive. That's a winning combination for the person who wants a better-looking smile without a lot of expense or time in the dentist's chair.
Get a Smile Makeover for Summer
There might be more staycations than vacations this summer, but that doesn't mean you can't celebrate yourself and enjoy some rest and relaxation while sporting a gorgeous smile. If you're ready to upgrade your look, consider these quick, customized procedures.
Discover the cosmetic dentistry treatments that are right for your oral health. Schedule your consultation with Dr. Michael J. Wei at his Midtown Manhattan office, or submit a Smile Virtual request online from the comfort of your home.