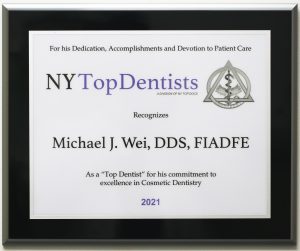 Dr. Michael J. Wei, Manhattan cosmetic dentist, has won the New York Top Dentist award for 2021. This prestigious honor is given by the Top Dentist Division of the USA Top Docs. Only the most experienced, dedicated, and deserving dentists earn this recognition after undergoing a comprehensive review process. Dr. Wei has shown his dedication, accomplishments, devotion to patient care, and commitment to excellence in cosmetic dentistry.
"I am extremely honored to have won the NY Top Dentist award for 2021," says Dr. Wei. "I am so humbled and appreciative to have my work recognized again. It means so much to me that the work I am so passionate about also resonates with others. I will continue my efforts to deliver excellence in dentistry."
Earning the NY Top Dentist Award
The NY Top Dentist Award is only bestowed upon the professionals who have undergone an extensive vetting process and review that includes:
Submission of a comprehensive qualification questionnaire
In-depth screening process
Board certification
License and malpractice review
Minimum years in practice standards
Doctors do not pay for the Top Dentist recognition. It is a merit-based award for high-achieving professionals in dentistry. Dr. Wei has shown his dedication to his craft not only in his day-to-day work but in his commitment to continuing education, dental innovation, and the completion of advanced training classes. He is a perfectionist in all he does, which is evidenced by the flawless, natural-looking smile makeovers he creates.
It is Dr. Wei's privilege to be conveniently located in Midtown Manhattan on Madison Avenue, making it easy for his patients to see him and receive the treatment they want and need. Dr. Wei is committed to helping every person who comes to see him to feel good about their smiles and how they look so they can enhance their lives both personally and professionally.
Cosmetic Dentistry from Top NY Dentist
Dr. Wei offers a comprehensive menu of cosmetic dentistry treatments. No matter what is going on with your teeth, no matter what kind of aesthetic upgrades you need, there is always a solution to give you the kind of beautiful, natural-looking smile you've always wanted.
Cosmetic dentistry treatments include:
Veneers: Wei offers traditional porcelain veneers, as well as prepless and microthin veneers which are minimally invasive treatments that deliver the same high-quality results.
Teeth whitening: Professional whitening from your NYC dentist will give you beautifully white teeth, even if they're not perfect.
Cosmetic tooth bonding: If you have one or two damaged teeth that are making your smile unsightly, this treatment is non-invasive and fast, correcting damage or discoloration in one sitting.
Smile makeovers: Whatever you want to change about your teeth, a customized smile makeover – whether it consists of one treatment or multiple treatments – will give you a VIP look.
Make an Appointment with NY Top Dentist
Dr. Wei and his team are eager to welcome new patients to the practice. If you would like to see a NY Top Dentist for your oral health care needs and cosmetic dentistry goals, schedule an appointment with Dr. Wei, or submit a Smile Virtual request for a convenient way to get your smile makeover started.