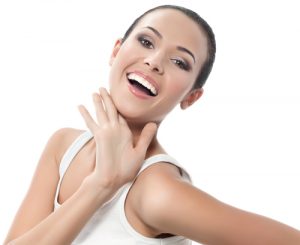 Every cosmetic dentistry treatment is designed to make your smile look better. When whitening your teeth is the priority, there are several procedures that can help you reach your goal. Discuss them all with your New York City cosmetic dentist to find out which is right for your smile makeover.
1. Teeth Whitening
The most obvious choice for brightening up a smile is professional teeth whitening. Using powerful, professional-grade bleaching products, this treatment gets into the tooth enamel and breaks apart stains, making teeth multiple shades whiter. It only takes about an hour to complete a whitening treatment in your dentist's office, though take-home options are also available.
The one thing to know about teeth whitening is that it isn't for everyone. Some tooth discoloration is such that it can't be bleached away. No amount of teeth whitening can make a dent (which you may have already discovered if you tried to whiten your teeth unsuccessfully using over-the-counter products). In cases like these, another type of cosmetic upgrade that will conceal the stains is necessary.
2. Cosmetic Tooth Bonding
You want a quick, non-invasive solution for a discolored tooth. Might feel like an impossible request, but it's really not too much to ask. Cosmetic tooth bonding can deliver on all counts. This procedure is minimally invasive and requires no numbing agents to get the job done, especially if the goal is to merely whiten a tooth.
The procedure takes about 30 minutes per tooth to complete and involves the application of a tooth-colored resin which is then cured, shaped, and polished until it looks like a natural tooth. Cosmetic tooth bonding is a versatile procedure and it can not only make stains disappear but correct the form and function of a tooth too for a complete smile makeover.
3. Porcelain Veneers
Veneers are the ultimate cosmetic dentistry procedure when it comes to concealing discolored teeth. Whether you opt for traditional porcelain veneers, Microthin veneers, or prepless veneers, the result is a beautiful smile that is white and flawless. Veneers can be used on just a few teeth for correction, or they can be used on all your visible top teeth to give you a full smile makeover.
All porcelain veneers, no matter which kind you ultimately decide to get, are designed to be long-lasting and truly transformative. You can whiten up your teeth but you can also conceal any other imperfections at the same time for a perfect smile.
Cosmetic Dentistry for White Teeth
Everyone has a unique set of teeth and the cosmetic dentistry treatments that work for one person may not work for another. It's important to have an honest conversation with your Manhattan cosmetic dentist about your smile concerns and smile goals so he can make the most appropriate suggestions to correct your complaints.
Schedule an appointment with Dr. Michael J. Wei at his Midtown dental office or submit a Smile Virtual video consultation to get a personalized video response with recommendations about how to get a whiter smile.