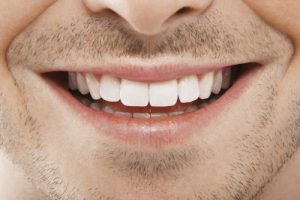 Manhattan cosmetic dentist Dr. Michael J. Wei believes strongly in the importance of continuing education. He recently completed three cosmetic dentistry courses at the Nash Institute for Dental Learning and received a certificate of achievement highlighting his efforts.
The Importance of Ongoing Education to Dr. Michael J. Wei
Dr. Wei received his certificate of achievement for completion of the esthetic continuum at the Nash Institute which consists of three clinical courses:
Direct esthetics: Repairs made inside of the mouth, like tooth-colored fillings or dental bonding.
Indirect esthetics: Restorations created outside of the mouth, often in a dental lab, and then affixed to the tooth or supporting tooth structure in a separate procedure, like porcelain veneers, dental crowns, dental bridges, dental implants, and more.
Full mouth esthetic rehabilitation: Dental restorations intended to repair both the form and function of oral health by correcting discomfort and complications and beautifying teeth at the same time.
These hands-on courses are taught over a two-day intensive period. Successful completion of the material results in the receipt of a plaque in recognition of academic and clinical expertise in the field of comprehensive, contemporary, and esthetic dentistry and for dedication to clinical excellence.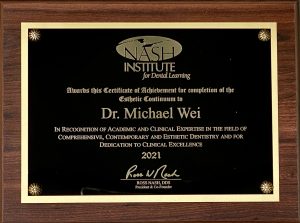 "The Nash institute for Dental Learning is a great program which I recommend for dentists who want to learn and seek more knowledge in the field of cosmetic dentistry," says Dr. Wei. "It is taught by my good friend, Dr. Ross Nash, who is one of the top dental educators in the country. I'm looking forward to returning next year to teach and be a mentor to a great group of dentists."
The Nash Institute is in Charlotte, North Carolina, and has built a reputation as a foremost educational haven for dental professionals from all over the world. The engaging, intimate environment is ideal for giving every attendee attention, support, and effective, hands-on training. The Nash Institute offers training taught by instructors in their unique areas of expertise in both the clinical and business aspects of dentistry.
Expanding NYC Cosmetic Dentistry Options
The work that Dr. Wei did at the Nash Institute supports his existing pedigree of continuing education and efforts to constantly improve his skills, expand his offerings, and give his patients the most up-to-date, state-of-the-art dental options available. The coursework and techniques he learned at the Nash Institute will contribute to all his dental care, but especially treatments such as:
Porcelain veneers
Dental bonding
Porcelain crowns
Smile makeovers
Dental bridges
Inlays and onlays
Schedule an Appointment with NYC Dentist Dr. Michael J. Wei
If you've heard about an innovative dental treatment, Dr. Wei has too. If you think what you want for your smile isn't possible, Dr. Wei may beg to differ. When you want a professional who is prepared for any oral health complication or question, rely on Dr. Michael J. Wei.
Our office is conveniently located in Midtown Manhattan. Schedule an appointment or submit a Smile Virtual request to get your smile makeover started.