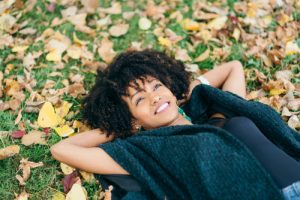 Many people love autumn and embrace the chill, the falling leaves, the changing light. Others mourn the loss of summer and its heat, sunshine, and carefree ways. Wherever your allegiances lie, if you have a perfect smile, you'll look your best heading into every season, even if you're not eager to embrace it. Here are just five ways to fall into your perfect smile.
1. Envision It
Sometimes, the hardest thing about going after a smile makeover is visualizing it. You can't imagine your teeth looking straighter or whiter or without that little gap or chip. Personalized smile design, however, lets you preview your perfect smile makeover before you hit go.
This sophisticated software lets you visualize what your smile will look like. You'll see your new teeth on your face – just not permanently… yet. If you can't decide between two cosmetic dentistry options, you can view your smile makeover in various ways so you can settle on the one that suits you best. Plus, you can take home evidence of your soon-to-be new smile to share it with others.
For people who don't want to fall into the wrong idea because of haste, but who love all the research, all the planning, and all the gathering of opinions, smile design is for you.
2. Pinpoint Your Biggest Pet Peeves
If you are unhappy with the appearance of your smile, then it's critical that you pinpoint exactly what bothers you so much. Is it one wonky tooth, a few short teeth, receding gums, stained teeth, a wholly unpleasant-looking smile?
When you speak to your NYC cosmetic dentist during your consultation, tell him exactly what you are hoping to fix so he can provide the most relevant recommendations for getting that perfect smile. It can feel like your dentist offers a buffet of options, but not all of them will be right for your unique smile upgrades – and that's a good thing. Fewer decisions to make and a greater likelihood of correcting the things that have always bothered you about your teeth.
3. Know Your Budget
Aim for the stars, imagine yourself with the VIP smile that celebrities have, but know your budget too so you can discuss your specific parameters with your cosmetic dentist. Chances are, you can afford more than you think you can once you're done discussing your dentist's numerous financing options. You may be able to get the kind of impressive, long-lasting smile makeover you never imagined you could (like porcelain veneers).
Don't assume that because you're young or don't have a six-figure job or don't have dental insurance that a smile makeover isn't in your future – you are worthy, and it is possible to make it happen.
Your Path to a Perfect Smile
Schedule a consultation with Dr. Michael J. Wei at his Midtown cosmetic dentistry office on Madison Avenue. You can even submit a Smile Virtual request online and get a video response from him about suggestions for your perfect smile. It would be our privilege to help you fall into a beautiful new smile. Contact us today to get started.