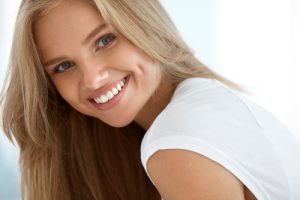 How can a cosmetic dentistry procedure perfect your smile without changing your teeth? Easy. It's all in how the veneers are applied. Microthin veneers were designed to be minimally invasive, which means anyone who has ever worried about the invasiveness of porcelain veneers has a new option to achieve a flawless smile makeover.
Change Within a Change
Microthin veneers are designed to beautify teeth without altering the natural teeth underneath. For the many people who have concerns about changing their tooth enamel permanently, the thought that they can upgrade their smile and change it back should they ever want to are confirmation that this is the right smile makeover for them.
If you're the kind of person who likes to have a "just in case" solution in their back pocket, the reversible nature of Microthin veneers will give you some relief. The reality, however, is that most people who get a Microthin smile makeover quickly acknowledge just how much they love their smile – and have no intention of ever changing it back to what it used to be. This is especially the case when you work with a talented, experienced, and certified NYC cosmetic dentist.
Benefits of Microthin Veneers
When people make a cosmetic upgrade to their appearance, maintaining a natural look is very important. They don't want the change to look fake or contrived – and Microthin veneers deliver. Here's how:
No damage: Traditional veneers are stunning and life-changing, but they are an invasive procedure. It is often necessary to remove some tooth enamel to make room for the porcelain to fit over the teeth. The incredibly thin porcelain used in Microthin veneers fits snugly over the teeth so drilling and enamel removal is unnecessary.
Customized: What everyone wants to avoid, at all costs, is a cookie-cutter smile upgrade. Veneers, no matter what kind you receive from your Manhattan cosmetic dentist, are customized just for you. The color, shape, size, and length of each veneer is carefully constructed to blend seamlessly with your complexion, the color of your eyes, and the shape of your face. They are customized to be flawless for your smile.
Versatile: Everyone pursues veneers for their own reasons, but some factors make people a better candidate for veneers than others. If you're trying to hide any of the following problems, Microthin veneers can get the job done: chips, cracks, stains, misalignment, narrow smile, small teeth, worn teeth, and more.
Get Microthin Veneers in Midtown Manhattan
Only some dentist are certified to place Microthin veneers. If this is a procedure that interests you, get the details and find out if you're a good candidate from a true professional in Midtown, Dr. Michael J. Wei. He is has the specialized training, technical skill, precision, and experience to deliver an unforgettable, natural-looking smile makeover that will help you look younger, happier, and healthier.
Find out if Microthin veneers are right for you. Schedule an appointment with Dr. Wei at his dental office to learn more or submit a Smile Virtual video consultation to get a personalized video response.