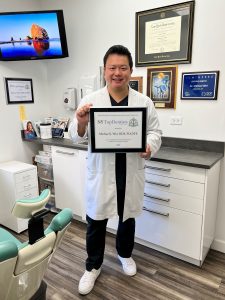 Dr. Michael J. Wei has been awarded the New York Top Dentist title for 2022, a prestigious honor given by the Top Dentist Division of the USA Top Docs. "I am humbled and appreciative to have my work recognized again," says Dr. Wei, Manhattan cosmetic dentist. "It means so much to me that the work I am so passionate about also resonates with others. I will continue my efforts to deliver excellence in dentistry."
How Dr. Wei Earns the New York Top Dentist Award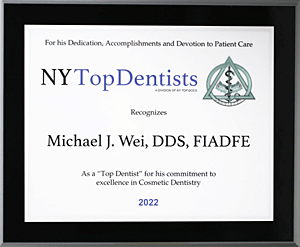 Top Docs selects only the most dedicated and experienced dentists to earn the recognition of New York Top Dentist. A comprehensive review process must be completed and must show evidence of a dentist's dedication to his or her craft, devotion to patient care, and commitment to excellent in cosmetic dentistry.
Only professionals who have undergone the Top Doc extensive vetting process are eligible for this award. The review includes the following:
Comprehensive qualification questionnaire
Board certification
In-depth screening process
License review
Minimum number of years in practice
Dentists do not pay for the Top Dentist recognition – it is a merit-based award for high-achieving professionals in the industry. "I am extremely honored to receive the New York's Top Dentist award for 2022. It is a privilege to be chosen because this award recognizes me as a top cosmetic dentist," says Dr. Wei, who has indeed dedicated his career to being a master of aesthetic smile makeovers and cosmetic dentistry treatments.
Comprehensive Cosmetic Dentistry from a Top Dentist
Dr. Wei is dedicated to improving his craft daily and is committed to continuing education, the implementation of dental innovations, and the completion of advanced training courses. He is a perfectionist and will settle for nothing less than flawless smile makeovers for each of his patients.
Some of the most popular cosmetic dentistry treatments that Dr. Wei offers include the following:
Veneers: There is not just one type of porcelain veneer. Under Dr. Wei's practiced hands, patients can take advantage of Microthin veneers and no prep veneers which are far less invasive but just as powerful a smile makeover. Every type of veneer is customized in color, shape, size, and length to create unique new smiles.
Cosmetic tooth bonding: When patients have only small cosmetic concerns, cosmetic tooth bonding is minimally invasive, quick, and effective. This treatment can correct a crack, chip, stain, gap, or otherwise in just one dental appointment, making your smile look as though there was never anything wrong with it.
Smile makeover: Everyone who wants a new smile is asking for a smile makeover, and each of these is unique to that patient. Whether you undergo one cosmetic dentistry procedure or several, the goal is the same – a flawless smile that looks amazing and works perfectly.
Get a Smile Makeover from a New York Top Dentist
Dr. Wei is located in Midtown Manhattan on Madison Avenue, a convenient location for anyone who works, lives, or plays in New York City. He offers a comprehensive menu of dental care for patients, and there is always a way to transform your smile into the very best version of itself.
Be seen by a New York Top Dentist. Schedule an appointment with Dr. Wei or submit a Smile Virtual request for an even more convenient way to get your smile makeover started.