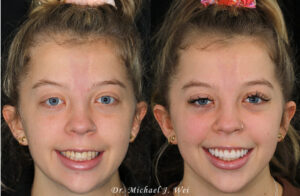 Patient Laura T. was unhappy with the appearance of her smile and concerned about how it made her look. Instead of living with characteristics that made her feel self-conscious and negatively affected every area of her life, she chose to pursue a smile makeover from Dr. Michael J. Wei that would give her a flawless smile and make her look and feel like the best version of herself.
When You Don't Love Your Smile
Everyone who pursues a new smile has their own personal concerns. Every patient is different, but there is a solution for everything. Laura's smile complaints included:
Discoloration and stains
Damaged and dark front teeth
Tooth decay
Enamel defects
Misalignment
Uneven gums
Laura was concerned about both the look and health of her teeth, which meant she needed both cosmetic dentistry and restorative dentistry treatments to achieve a stunning, strong, healthy smile.
Customized Smile Makeover Solutions
After a careful examination of Laura's oral health and a discussion with her about her smile goals, Dr. Wei recommended and eventually performed the following procedures:
Gum lift: When teeth seem small or short, they can be lengthened with a permanent gum lift treatment which uses a laser to remove excess gum tissue.
Porcelain veneers: Laura received a fuller, brighter, whiter, straighter, natural-looking smile with 10 porcelain veneers across her front teeth. Her natural teeth were altered only minimally for a super-minimum-prep case.
Tooth-colored fillings: A new smile can only be built on a healthy foundation. All areas of tooth decay were carefully cleaned out and replaced with composite, tooth-colored fillings.
Laura T., like so many other patients, had long avoided dental treatment because of her dental fear. Instead, she resorted to putting her hand over her smile when she laughed and avoided pictures. Solutions like minimally invasive dentistry, excellent planning, and great team communication helped decrease chair time, healing time, and the number of appointments needed to transform her smile.
Change Your Life with a New Smile
In one of her testimonials, Laura T. wrote that she "is not embarrassed anymore about smiling and taking pictures. I am more confident in social settings and love hearing from my friends and family about how natural and beautiful my smile looks."
Her smile makeover case was recently featured in a Dental Economics article written by Dr. Wei, which focuses on minimally invasive techniques to achieve an esthetic smile makeover and outlines the details of Laura's case in particular, every step of the way.
Even if you think there is no hope for the problems you have with your teeth, or that you can't possibly manage time in the dentist's chair, there is always an option to help you achieve the smile makeover you desire. Get started on your journey to a new you and new self-confidence by submitting a Smile Virtual request online or scheduling a consultation with Dr. Michael J. Wei, cosmetic dentist in Midtown Manhattan.