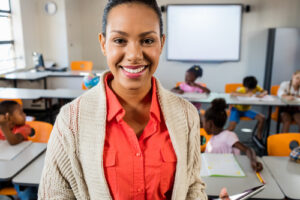 Many people love to shop for new clothes and school supplies during back-to-school season and stock up on goodies for their backpacks, binders, lunchboxes, desks, and gradebooks. If you want to really feel ready for the new school year – whether you're an adult student or instructor – consider upgrading your teeth with a customized smile makeover.
Make an In-Person Impression
Masks are off (for the most part) and if you're in a classroom that allows you to speak, smile, and engage with students or classmates without covering your mouth, that will feel like serious freedom – unless you're embarrassed by your teeth.
Over the pandemic, it was easy to hide unsightly teeth behind masks. Maybe you let certain cosmetic dental issues go since there wasn't one person outside of your household who was seeing your smile. Now, though, the time has finally arrived to let it all hang out – and you could use a touch up.
If your teeth are dingy, professional teeth whitening can brighten up your smile in a one-hour visit to your Manhattan cosmetic dentist.
If you don't qualify for a whitening treatment, you're still in luck. Prepless veneers will give you the smile you want without a major alteration of your natural tooth enamel.
If your teeth seem to be in decent shape, but they just don't look great, ask yourself how long it's been since you've visited your dentist for a professional teeth cleaning and checkup.
Stand Out Virtually
Many people teach and learn in a virtual environment. Even in this private space, you still want to look and feel your best. After all, your peers will be studying your appearance the entire time you're online – there is, after all, nothing else to look at.
What bothers you the most about your smile?
Do you have one discolored tooth that always stands out? A customized porcelain crown can conceal the problem.
Do you have too many gaps between your teeth? Porcelain veneers or maybe even Invisalign can hide those spaces.
Are you missing a tooth? A dental implant is a permanent way to fill the hole in your smile.
Do you wish you could change everything about your teeth? Porcelain veneers or full-mouth reconstruction can fix it all.
Not only will the people on the other end of the screen be looking at your teeth, you'll be distracted by your own image reflected back at you, and it's very likely you could miss out on important instruction or be distracted because you're so self-conscious of your teeth.
Oversee with Confidence
Teachers and students aren't the only people who go back to school every year. Administrators and parents do too. If you find yourself in either or both groups feeling like you could look better than you did last year, wanting a way to boost your self-confidence and appearance, it's time to make an appointment with your NYC cosmetic dentist. Schedule a consultation with Dr. Michael J. Wei to discuss your concerns and work your way together to an A+.