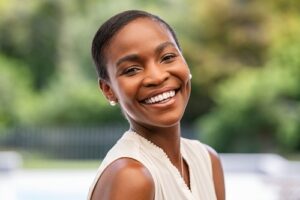 Aging happens to everyone, but we don't have to age gracefully, we don't have to just settle for the things that happen to our bodies. We can stage interventions for ourselves from head to toe, and that includes our smiles. Teeth suffer daily wear and tear and, over time, begin to deteriorate and wear out. Through full-mouth reconstruction and customized restorative dentistry, your worn-out teeth can become new again.
Signs That You Have a Worn-Out Smile
Everyone doesn't age at the same rate. Some people experience compromised teeth in their 30s and 40s instead of in their 50s or 60s or even further into their senior years. Here are just some of the signs that you're living with a worn-out smile:
Tooth pain: Tooth pain throughout your mouth is a big problem. This discomfort, whether it's constant or comes and goes, is an indication that something isn't right and you're probably living with tooth decay or an infection. Without restorative dentistry, things will only get worse.
Worn enamel: If you have thin or weak tooth enamel, you're automatically at risk of early wear, but if you grind your teeth complications are even more likely. Teeth grinding is a chronic problem that causes pain but your teeth take the brunt of the consequences and result in worn enamel along as well as problems like gum recession and broken teeth.
Mouth soreness: If your teeth don't function properly, if you worry about cracking a tooth when you eat, you probably have ongoing mouth discomfort too. Alignment problems like this can be addressed with neuromuscular treatments.
Difficulty eating: Biting and chewing difficulties are a serious oral health problem. If you struggle with this issue, especially if you have loose or painful teeth, you may be suffering from gum disease.
Chipped or damaged teeth: Broken teeth are an unsightly problem that not only interrupts your smile, it leaves you open to bacteria entering the tooth and causing an infection. One broken tooth also means an increased likelihood of additional broken teeth.
As long as you're under the regular care of a conscientious New York City dentist, you'll have someone who is aware of your oral health and your teeth will always be in excellent shape. If you've avoided the dentist for a while though because of embarrassment about your worn-out teeth, there is no time like the present to get the problems you're experiencing fixed through full-mouth reconstruction.
The Magic of Full-Mouth Reconstruction
Full-mouth reconstruction can sound like a daunting term if you aren't familiar with it. In short, it's a combination of customized dental treatments that leave you with a smile that feels good, functions impeccably, and looks amazing. Your NYC dentist might recommend any of the following treatments:
Gum disease treatment
Root canal therapy
Porcelain crowns
Tooth-colored fillings
Dental implants
Fixed dental bridges
Teeth whitening
Porcelain veneers
Find out what your customized full-mouth reconstruction smile makeover looks like. Schedule an appointment for a consultation with Dr. Michael J. Wei at his Midtown dental office.