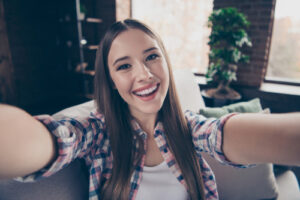 Thinking about getting a smile makeover? Wish you could see as many before-and-after photos of other peoples' teeth as possible? Want to know more about the kind of cosmetic dentistry that's right for you? Join the 175,000 followers of NYC cosmetic dentist Dr. Mike Wei's Instagram account and see evidence of patients' new smiles and new lives thanks to his meticulous dental care.
Dr. Wei: Exclusively a NYC Cosmetic Dentist
When you're ready to transform your smile, it's essential to choose a professional who knows what they're doing and has hundreds of cases that show their expertise. Dr. Wei deals exclusively in cosmetic dentistry and creates natural-looking, perfect smile makeovers every time. He stands behind his work, technology, and innovative methods to deliver beautiful teeth to each patient.
He has been doing cosmetic dentistry for 22 years.
Every smile he creates is different.
He only does cosmetic dentistry – exclusively.
Not all smiles are the same, and that means the treatments needed to upgrade them aren't the same either. A professional, experienced, cosmetic dentist is necessary, someone who can identify what needs to be done and has the expertise, tools, and confidence to give you a stunning, natural-looking smile makeover.
Follow @drmikewei on Instagram to see just how transformative porcelain veneers, prepless veneers, porcelain crowns, and other cosmetic dental procedures can be.
@drmikewei: The Largest Smile Gallery
The Instagram account of @drmikewei is like a large smile gallery for anyone who wants to see and read about the way his smile makeovers have changed lives. On this account, you will find:
Video testimonials from patients
Selfies of patients living their lives with their gorgeous teeth
Dramatic before-and-after videos and photos
Incredible feedback from satisfied patients
Descriptions of cosmetic dentistry procedures
Dr. Wei also explains how you can get feedback about your own teeth as you make decisions about getting a smile makeover. A free Smile Virtual consult is an easy two-step process:
Upload a photo of your smile as well as a full-face photo and share what you would like to change about your smile.
Wait to receive a personalized video from Dr. Wei with his recommendations for your smile, a cost breakdown, and the next steps.
Change Your Smile with Help from Your NYC Cosmetic Dentist
Maybe you love Instagram but you're embarrassed to post pictures of yourself. You'll recognize your own teeth in the photos of real patients on Dr. Mike Wei's account – people with stained teeth, short teeth, broken teeth, damaged veneers, and broken-down smiles. If you worry that your smile is too far gone to be helped, think again. The photographic evidence on Instagram makes it clear that this dentist can fix any cosmetic challenge that comes his way.
Now is the time to make a change and upgrade your teeth permanently with help from your NYC cosmetic dentist. Schedule a consultation with Dr. Michael J. Wei at his Midtown Manhattan dental office to talk about the hopes you have for your smile and the cosmetic dentistry treatments that are right for you.