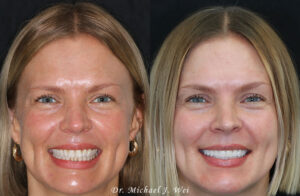 Patient Helena R. was unhappy with the aesthetics of her smile. She had crooked, discolored, misaligned, uneven, and rotated teeth that made her feel uncomfortable and self-conscious. She wanted a bright, white, straight smile makeover to reflect her personality and support her position in the fashion industry. New York City cosmetic dentist Dr. Michael J. Wei delivered a complete transformation for this motivated patient in just three dental visits.
Porcelain Veneers: The Answer to Everything
Porcelain veneers come in different forms:
Traditional porcelain veneers require the removal of some tooth enamel.
Microthin and DURAthin veneers are super-slim and fit seamlessly over natural teeth.
Minimal prep veneers are a non-invasive method that requires little to no prep to change your teeth.
Dr. Wei used 20 minimal-prep porcelain veneers for Helena and was able to give her a straighter, wider, whiter smile – without braces. Each veneer was customized for her smile in shape, size, length, and color to look natural and flawless.
The smile transformation that Dr. Wei designed just for Helena corrected all her problems and smile complaints: crooked teeth, inflamed gums, an uneven smile, and rotated teeth.
Subtle Laser Gum Reshaping
Because Helena's teeth were misaligned, flared out, uneven, and not proportional, she benefitted from laser gum reshaping, a procedure that is commonly paired with porcelain veneers. The laser gum lift reshapes the gum line to show off more tooth than gum.
The removal of a small amount of gum tissue reveals more tooth enamel for dramatic and immediate results. When this treatment is combined with veneers, the smile makeover results are hugely transformative. Helena's gum reshaping was done meticulously and just enough to make room for veneers and give her longer, more flattering teeth.
Alternatives to Orthodontics
Braces and Invisalign are effective orthodontic treatments that transform a person's smile, but it takes time to get that desired result, often a year or more. Helena wanted straight teeth, but she didn't want the responsibility, the discomfort common to orthodontics, or the lengthy time constraints required to achieve her smile makeover.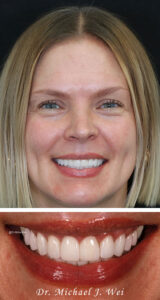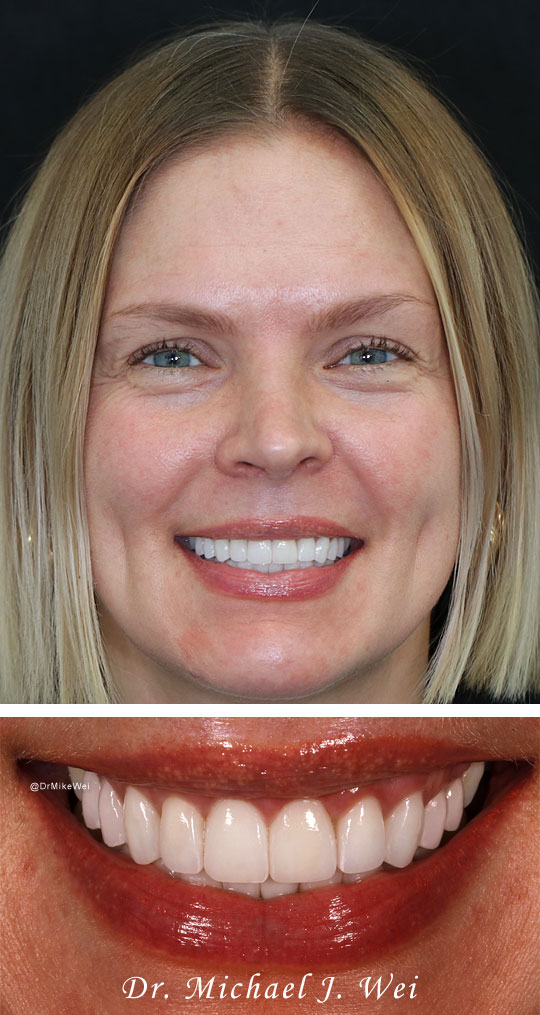 Plus, by getting veneers, Helena was able to achieve a bright, white, straight smile all at the same time without having to undergo multiple procedures. One transformative veneers treatment allowed her to bypass orthodontics and get the beautiful smile she wanted in a minimal amount of time.
Boost Your Confidence with a NYC Smile Makeover
If you're self-conscious of your smile, change is possible. Get started on your own personal smile transformation by submitting a Smile Virtual Consult. Submit a photo of yourself and share what you would like to change about your smile. Receive a customized video response in return from Dr. Wei that includes his recommendations for your smile makeover and the next steps.
You can also contact us to schedule a smile makeover consultation at your NYC dentist's office and get your smile transformation started right away. Change your life with a new smile, just like Helena changed hers. Contact Dr. Wei to schedule an appointment.