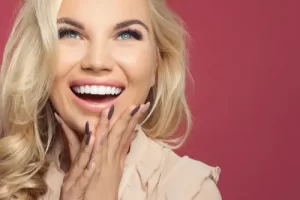 Whether you live, work, or play in Manhattan, there is no shortage of dentists available when it comes to upgrading your smile. It's important, though, to choose the most experienced and meticulous NYC cosmetic dentist to ensure that whatever changes you make to your teeth are done so well that they look natural and flawless.
Here are just some of the reasons to get porcelain veneers from NYC cosmetic dentist Dr. Michael J. Wei.
1. You Have Options
There aren't many Manhattan cosmetic dentists who offer multiple types of veneers, but Dr. Wei does. Here are the available options:
Conventional veneers: Conventional porcelain veneers create an incredible, complete smile, but they do require the removal of some tooth enamel to make room for the veneers.
Microthin veneers: Wei is one of the few certified providers of Microthin veneers, a no-prep alternative to conventional veneers that does not alter the natural teeth underneath.
DURAthin veneers: DURAthin veneers fit in the same no-prep category as Microthin veneers and, just like their counterparts, adhere to the front of the teeth without needing to alter them in the process.
Prepless veneers: A gentler way to apply porcelain veneers, prepless veneers typically require only a teeth cleaning and light sanding to get tooth enamel ready for the procedure. These veneers are super-thin and the color of each porcelain shield must be carefully selected to look natural.
Anyone who has ever shied away from veneers but wanted the kind of smile makeover veneers can give now have plenty of possibilities from which to choose. You don't have to alter your teeth to get the look you want – your NYC cosmetic dentist can transform your smile with no-prep veneers that deliver an amazing smile makeover without invasiveness.
2. You're Working with a Perfectionist
Dr. Wei's cosmetic dentistry has been a lifelong study. He is dedicated to his career and to expanding his knowledge through advanced dental training and continuing education. He understands and respects both the art and science of a smile makeover, matching every patient with their ideal cosmetic dentistry treatments for their smile goals and needs. He is, in short, a perfectionist who is ready to help every patient get the teeth they have always wanted.
3. So Many Happy Patients
Take one look at Dr. Wei's online smile gallery and you will see satisfied and delighted smile makeover patients. There is nothing like before-and-after photos to provide evidence of a job well done, but if you want more than that, video testimonials let you see and hear how happy these smile makeover candidates are.
You should only seek out the very best as you consider your smile upgrade. Schedule a consultation with Dr. Michael J. Wei, NYC cosmetic dentist, to find out why this professional is the right one to transform your smile and your life. Contact our office today, or submit an online Smile Virtual request to get in touch on your time and from the comfort of your home.