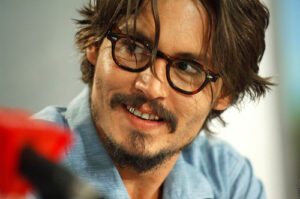 Johnny Depp is a superstar who seems to fall into the category of "Celebs You Either Love or Hate." One thing nearly everyone can agree upon, though, is that this man's teeth are in dire straits. His recent appearance at the Cannes Film Festival brought this characteristic to the forefront and produced many articles about Depp who has boasted that he's "proud" of his "rotting teeth." If Johnny only knew how easily a NYC smile makeover could repair what he has going on without eliminating any of his effortless cool.
Authentic NYC Smile Makeover for Everyone
There's something to be said for authenticity, especially among serious actors. They want to look like normal people with normal teeth and some refuse to undergo cosmetic dentistry that might alter their essence. There is a difference though between actor Steve Buscemi's crowded teeth and Depp's brown, yellow, deteriorating teeth.
Non-celebs want to look authentic too, natural, like themselves – but who says that straight, white, flawless teeth aren't natural? They are, in fact, the norm for many. Consider people who underwent orthodontics as a teenager then got professional teeth whitening as an adult – these are just a few easy ways to get a better-looking smile without looking like a different person.
Depp, however, needs more than teeth whitening. His teeth have gotten progressively worse as the years go on, and if they look bad on the surface, it's safe to say they probably aren't doing too well under the gumline. Eventually, he'll be faced with a situation where restorative dentistry like dental implants is necessary to ensure that he has teeth at all.
The All-Encompassing Smile Makeover
The easiest, fastest, most effective way to fix all of Depp's visible teeth – providing his smile is healthy and free from gum disease – is prepless porcelain veneers. Veneers are customized to the patient, so they can be the shape, size, length, and color that you want.
You don't need bright white enamel to have a great smile – in fact, for many people, off-white is the best choice for a natural look. Veneers cover every cosmetic problem at the same time and are stain-resistant. While many believe Depp's devotion to cigarettes and espresso and a lack of teeth cleanings are to blame for the color of his enamel, he also has wear problems that have altered the shape and length of the teeth and contributed to deterioration.
Upgrade Your Smile with a NYC Smile Makeover
Depp claims to be "proud" of the imperfections in his teeth. You should be proud of your smile too, however, if you have even the slightest bit of self-consciousness about your teeth when you smile, speak, or see yourself in photos, these are signs it's time to upgrade. No matter what kind of condition your teeth are in, there is always a way to make them look, feel, and work better.
Even if Depp doesn't want to do anything dramatic to his smile, even being quoted as saying, "When I see people with perfect teeth, it drives me up the wall," at the very least, he can get his teeth deep cleaned and examined for decay and infections.
What Depp may not realize, and what many people don't consider, is that unsightly teeth aren't only problematic for how they look but their health. The solutions are so simple, from porcelain crowns to tooth-colored fillings.
Do you have teeth like Johnny Depp and feel embarrassed by their appearance? Schedule an appointment with Dr. Michael J. Wei in Midtown and get the NYC smile makeover that will make you feel like a superstar.