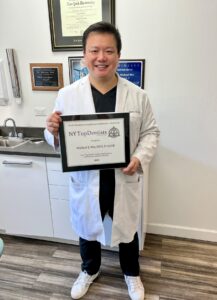 Dr. Michael J. Wei, NYC cosmetic dentist, has been awarded the New York Top Dentist honor for 2023, a prestigious title bestowed upon deserving candidates by the Top Dentist Division of the USA Top Docs. "I am extremely honored to receive the New York Top Dentist Award for 2023. It is a privilege to be chosen because this award recognizes me as a top cosmetic dentist." He continues, "I am appreciative and humbled to have my work recognized. It means so much to me that the work I am so passionate about also inspires others. I will continue my efforts to deliver excellence in dentistry."
Examples of Top Cosmetic Dentist Behavior
What does "top dentist" mean? When it comes to Dr. Wei, it means he is committed to excellence in cosmetic dentistry and it means things like:
Meticulous work: Wei is a perfectionist. Every smile he creates is one he would proudly wear himself, measured and crafted flawlessly to complement a patient's appearance overall. Creating a smile makeover isn't just about teeth, after all, it's about a person's lifestyle, skin tone, gender, occupation, and so much more. All the details matter, and Dr. Wei doesn't forget the details for a moment.
Comprehensive menu: When you know you want to change your teeth and make them look as good as they can possibly be, you want to work with a dentist who can do whatever is necessary to make your smile shine. Dr. Wei's cosmetic dentistry menu includes everything from prepless veneers to porcelain crowns, teeth whitening to restorative dentistry.
Ongoing education: Wei is focused on continuing education and innovations in cosmetic dentistry, a dedication that makes it possible for him to offer incredible, innovative cosmetic dentistry treatments that suit every patient perfectly.
Impressive social media presence: Wei has made a name for himself on Instagram @DrMikeWei, showcasing successful smile makeovers and customized cosmetic dentistry and dental care. When people see what's possible through Dr. Wei's perseverance, they have hopes for their own smile rejuvenation.
Going Above and Beyond Top Cosmetic Dentistry
Dr. Wei earned the New York Top Dentist Award from Top Docs, a group that handpicks only the most qualified, experienced, and dedicated dentists to earn their recognition. Candidates must go through a comprehensive review process and providence evidence of dedication to craft, patients, and commitment to excellence. This rigorous vetting process includes:
Board certification
Comprehensive qualification questionnaire
License review
In-depth screening process
Minimum number of years in practice
The Top Dentist award is a merit-based honor for high-achieving professionals – dentists do not pay for the recognition. Dr. Wei's satisfied patient videos and before-and-after gallery are visual evidence that prove his dedication to his field and the people he helps within it by delivering customized smile makeovers and cosmetic dentistry treatments.
Make an Appointment with NYC Top Dentist Dr. Wei
Are you ready to transform your smile? Schedule a consultation with NYC Top Dentist Dr. Wei and find out what kind of cosmetic dentistry treatments can work for you. It's even possible to submit a virtual consultation and receive details about a customized smile makeover in response. Contact us to learn more or schedule a consultation.