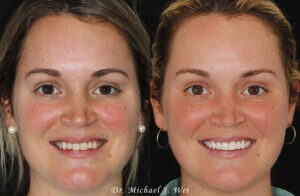 Pursuing a smile makeover is a commitment and sometimes it requires multiple visits to your cosmetic dentist. The transformation of Morgan M., however, took only three appointments to prep and complete her new smile using minimal prep porcelain veneers. If you think you don't have the time or nerve to make a change to your smile, Morgan's story will inspire you.
Morgan's Smile Makeover Story
If you've ever been unhappy with your smile, you're not alone. Morgan wanted to improve the appearance of her discolored, misaligned, misshapen, uneven, and disproportional teeth. She went to Dr. Michael J. Wei to see what could be done about her multiple complaints. The verdict? Morgan was an excellent candidate for minimal-prep porcelain veneers.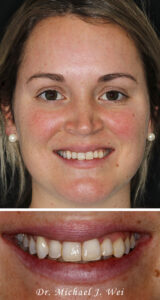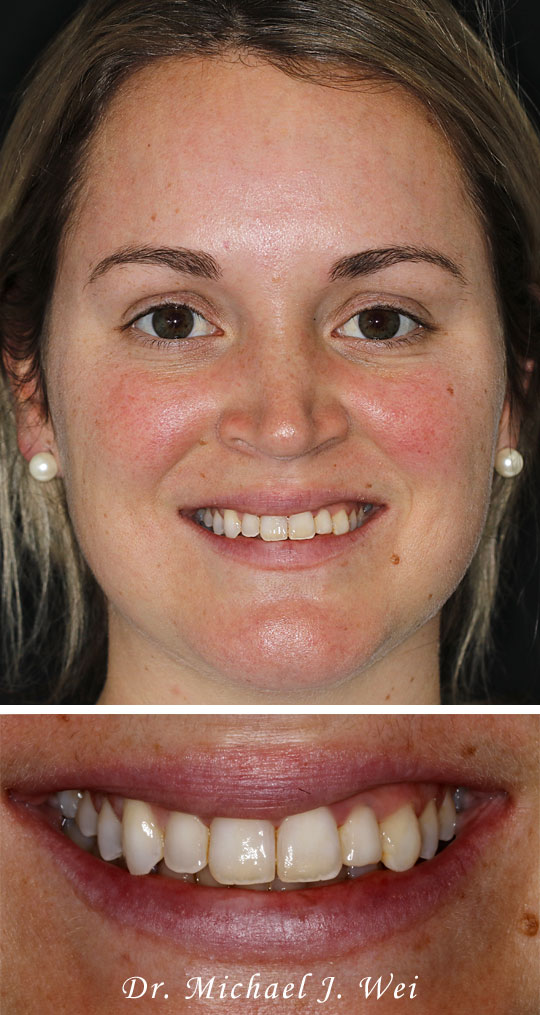 Over the course of three visits, Dr. Wei:
Reviewed Morgan's smile and oral health.
Designed veneers just for her mouth.
Carefully calibrated the color, shape, texture, and translucency of each veneer.
Placed the customized veneers permanently for a stunning smile makeover.
Corrected the unevenness and disproportionate aspects of her original teeth.
Successfully covered Morgan's natural teeth and delivered a smile that looks completely natural.
The result: A confident, happy Morgan and a smile that suits her perfectly. "I gave her a whiter, brighter, attractive smile with 10 super-minimum-prep porcelain veneers. She loves the results," says Dr. Wei. "She is ecstatic about her new smile and tells me she gets lots of compliments." If that doesn't boost a person's self-esteem on a regular basis, nothing will.
All About Minimal Prep Veneers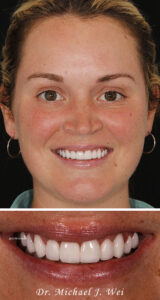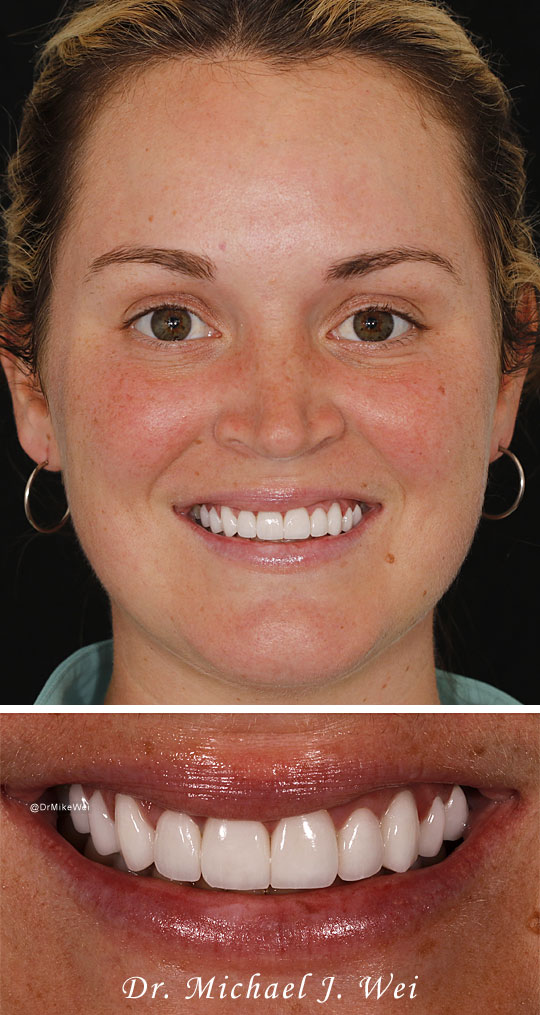 One of the greatest aspects of any type of veneer is that they correct multiple cosmetic dental complaints at the same time. Stains, discoloration, short teeth, gaps, a few crooked teeth, and so on – veneers cover up any unsightliness in one procedure and create a new version of a person's smile that is symmetrical, cohesive, and looks natural.
Minimal-prep porcelain veneers:
Require little to no alteration of natural teeth.
Need only a light sanding and cleaning.
Are a minimally invasive way to get a smile makeover.
Are a reversible treatment (though why would you want to?).
In Morgan's case, 10 veneers were used to create her transformation. In other patients, six or eight veneers may be the right choice, or veneers on both the top and bottom teeth. Everyone is different, which is why it's critical to consult with an experienced NYC cosmetic dentist who can make recommendations for smile makeover procedures based on your unique teeth.
Are You a Good Candidate for a Smile Makeover?
You don't have to be self-conscious of your teeth. It's so easy to find out what's possible for your smile transformation. Follow @DrMikeWei on Instagram to see more smile makeovers and cosmetic dentistry news or view his extensive Smile Gallery for stunning before-and-after photos. Contact our Midtown Manhattan office to schedule a consultation and find out what kind of smile transformation is in your future, or take advantage of our convenient and free video consult.