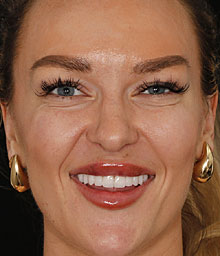 If your smile is less than perfect, if your teeth are short or dingy or misaligned, the smart choice is to turn to New York City cosmetic dentist Dr. Michael J. Wei for a customized smile makeover. That's what Antonia A. decided to do. The result? An incredible new smile that boosted her confidence and transformed her appearance.
Antonia's Customized Smile Makeover
Smile makeovers don't make you someone you're not, but they do make you the very best version of yourself. Beautiful Antonia was unhappy with her teeth that were interrupting her overall look.
"Antonia was not happy with the aesthetics of her smile due to discoloration, misalignment, and the short length of her teeth," says Dr. Wei. "She wanted whiter, brighter, straighter, and longer teeth. I gave her an amazing smile with 12 minimal prep porcelain veneers." The results? Antonia was very happy with her new smile, a transformation that delivered a smile that is now wider, brighter, more balanced, and a massive confidence booster.
Procedures Used in Antonia's Transformation
When Dr. Wei delved even further into this case, he discovered that Antonia's smile complaints also included disproportionate teeth, an uneven smile, a crossbite, a misplaced midline, and a narrow upper arch.
You wouldn't necessarily notice all these imperfections with a quick grin. Sometimes a good-enough smile is just that – good enough. However, if you can have a smile that's truly stunning, transformative, and flawless, wouldn't you want to make it happen?
The two most notable treatments Antonia underwent to achieve her final smile makeover were:
Laser gum reshaping: This procedure, also known as a laser gum lift, eliminates a gummy smile and reshapes the soft tissue of a smile so it is balanced and even. The gumline is quickly and comfortably recontoured to dramatically do away with excess gum tissue. Antonia's gums were more prominent than she would have liked and made it look like she had short teeth.
Minimal prep porcelain veneers: There is no better way to achieve smile perfection than with porcelain veneers. It's even better when a patient qualifies for minimal prep veneers, like Antonia. That means her natural teeth didn't need to be heavily altered to make room for the super-thin veneers. The veneers were carefully customized to fit over her existing smile to make it bigger, better, and more beautiful in all ways. Dr. Wei completed the smile makeover using 12 minimal prep porcelain veneers over three visits.
"Her porcelain veneers look amazing!" says Dr. Wei. "I love this smile transformation – the color, shape, texture, and translucency of these porcelain veneers."
Get Your Own Personalized Smile Makeover
View Antonia's transformation on Instagram @DrMikeWei to get a closer look at her before and after and see even more of the amazing smile makeovers he's created for satisfied patients.
If you're self-conscious about your own smile, find out what's possible from Dr. Wei in three easy steps. Start with a free Smile Virtual Consult online or schedule an in-person consultation at his cosmetic dentistry office in Midtown.