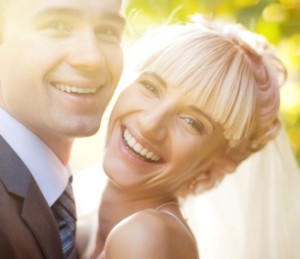 Wedding season is almost here, but no matter when you're planning to tie the knot, you want to look young and attractive and healthy and happy. While you may have a serious diet and exercise regimen that you're sticking to in order to become the bride or groom you've always envisioned yourself to be, there is one task that might be missing from your to-do list: a smile makeover. If you really want to look good in pictures, your smile is the place to start.
If you feel like you don't have the time or energy to deal with one more thing before your big day arrives, stop for just a moment and consider your smile. You will be spending the entirety of your wedding day smiling (at least, we hope so!) and taking photos. What kind of condition is your smile in? Could your teeth be whiter? More aligned? Would you like to have the kind of smile that makes you feel confident and stunning, whether you're wearing a wedding gown or tux or everyday clothes?
Here are just some of the cosmetic dentistry improvements and restorative dentistry solutions that are available to you. Depending on your timeline, improvements to your smile can happen in an hour, a few weeks, or over the course of several months.
Get a Brighter Bridal Smile
When time is hardly on your side and you don't have a moment to spare amid visiting pastry chefs and photographers and going for dress or tux fittings, then the most effective cosmetic dentistry solution for you may be professional teeth whitening. Your smile will look whiter and brighter in an hour. Sure, you could sit at home whitening your teeth with over-the-counter whitening strips as you write out wedding invitations and figure out place settings, but this technique is inconsistent and, if you do it too much – as brides and grooms may be wont to do – the practice could damage your enamel and irritate your gums. Go for the sure thing – a whiter smile on your wedding day.
Prettify Your Pout
Brides-to-be are no doubt seeking just the right makeup to accentuate their features on their wedding day, but that lip venom that promises to perk up your pout for this special occasion won't last long. Wouldn't it be far more beneficial to plump your lips permanently – without an injection – and correct any annoying aesthetic issues that have been living on your teeth for far too long? Porcelain veneers are one of the most versatile cosmetic dentistry solutions, correcting stains, cracks, chips, and misalignment. Veneers are custom-designed to be the right shape, size, length, and color for your face and, once in place, they naturally plump your lips a little, and can even minimize the appearance of fine lines and wrinkles around the mouth. Say cheese? I do.
Snap On a New Smile
Wish you could just wave a magic wand and have a new smile? Well, the snap-on smile is about the closest thing to that bit of sorcery. When your wedding is just around the corner, a Snap-on Smile can revitalize your appearance in about two weeks, and last for several years. The name says it all – easily snap on your custom-made smile. No shots, no drilling, no pain, no worries. Ideal for the dental-anxious brides and grooms, your Snap-On Smile can buy you time until you are ready to in a more permanent solution. The Snap-On Smile looks natural and lets you function as usual, so you won't just feel safe sipping on wedding day champagne – make sure you dig into that delicious food too!
And when your single friends come up to you on your wedding day, wishing you well and lamenting the shambles of their personal life, give them a suggestion: a smile makeover could help you love yourself, and find the love you want. Make an appointment to schedule your bridal smile makeover consultation with Manhattan cosmetic dentist Dr. Michael J. Wei. The options are many, and feeling good about yourself and how you look is an amazing way to begin your married life.