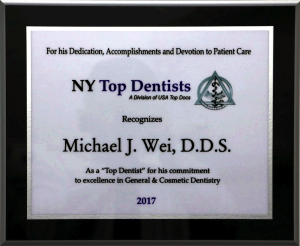 Manhattan cosmetic dentist Dr. Michael J. Wei has received the honor of being named New York Top Dentist for 2017. This merit-based award, given by the Top Dentists Division of USA Top Docs, is bestowed upon a dental professional who has undergone a rigorous review process by the Top Docs staff, including a comprehensive qualification questionnaire, research, and an in-depth screening process.
"My mission is to provide top-quality dentistry in a friendly and comfortable environment so that everyone can have healthy teeth and gums for a lifetime," says Dr. Wei. "I am committed to providing excellence and improving the health of my patients without any compromise. I want the best because my patients deserve the best."
Dr. Wei is a member of the American Academy of Cosmetic Dentistry, the American Dental Association, the New York State Dental Association, and the New York County Dental Society. He opened his first private dental practice in 2002, moving to his current New York City practice location in Midtown Manhattan in 2007. Dr. Wei consistently pursues advanced dental education, completing continuing education courses and trainings at top cosmetic dental institutes such as the Las Vegas Institute and The Rosenthal Institute for Aesthetic Dentistry in New York.
"I'm honored to receive the New York Top Dentist 2017 award because it means that I have been recognized for delivering outstanding dentistry and care for my patients," says Dr. Wei.
Laser-Focused on Dental Patient Comfort and Satisfaction
Dr. Wei is well-known in Manhattan for providing a range of cosmetic dentistry treatments, restorative dentistry treatments and general dentistry, most notably:
"Our mission is to create naturally beautiful smiles while enhancing our patients' overall well-being by using the latest dental technologies and suggesting a dental diagnosis that makes sense for the individual patient," says Dr. Wei.
Transforming Lives Daily
"The last two patients who came into my office had difficult, complicated dental issues and problems. They came to see me for a solution to fix their teeth and get their mouths healthy because they knew that I was a top dentist in my field," says Dr. Wei. He did not disappoint. "I was able to enhance their smiles by utilizing porcelain veneers, porcelain crowns, and dental implants. In the end, I was able to completely transform and enhance their smiles. They love the results of my work and their smiles look amazing!"
Along with his newly crowned position as New York Top Dentist, Dr. Wei has also been named America's Top Dentist by the Consumers' Research Council of America 12 times, an award that recognizes his outstanding dentistry services and expertise in general dentistry, cosmetic dentistry, and restorative dentistry in New York City.
You too can be the recipient of a smile from the New York Top Dentist who has served Manhattan dental patients for over 17 years by providing customized and transforming dental treatments. If you are ready to make your appointment with New York's Top Dentist, contact Manhattan cosmetic dentist Dr. Michael J. Wei to find out what's best for your oral health and your smile.