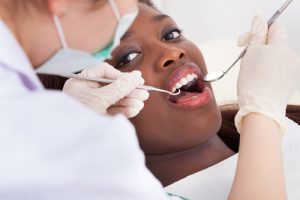 When is the last time you visited your NYC dentist for a dental exam and teeth cleaning? If it's been longer than six months, your oral health could be in jeopardy without you even realizing it. Perhaps, though, you are feeling that something isn't quite right with your teeth or gums. In either situation, it's time to visit your dentist, stat.
Benefits of Dental Visits Every Six Months
Sure, there will be occasions when you will have an accident, or a filling will suddenly break, or you'll damage a porcelain veneer, but these things happen. Your dentist is ready to find the solution for your dental emergency or unexpected discomfort. It's important to remember though that visiting your Manhattan dentist regularly helps prevent oral health problems from developing.
Dental appointments every six months give your dentist an opportunity to get a close look at your smile, gums, and enamel. Here are just some of the reasons it pays to visit your dentist even when something isn't wrong with your teeth:
Plaque and tartar build-up are removed with specially designed dental tools and from places that your toothbrush and dental floss will never reach.
X-rays taken once a year show cavities that may be growing but have yet to bother you. These timely digital images can help prevent the need for more intensive treatments like root canal therapy or even tooth extraction.
A dental exam identifies preventable oral health problems like early gum disease, gum recession, and oral cancer, and allows for early intervention to prevent issues like these from escalating.
Tooth enamel tells a lot of stories. Your dentist or hygienist will be able to warn you about overdoing it on the coffee, tea, soda, wine, or other staining elements that can damage tooth enamel.
You can discuss any headaches or jaw pain you are experiencing, both signs of TMJ and jaw problems. TMJ therapy can successfully reduce or eliminate discomfort, and protect your teeth from deterioration or damage.
You have an opportunity to discuss any teeth that are unsightly, aging, or sporting broken or old dental repairs. Cosmetic dentistry and restorative dentistry options make it possible to achieve a smile makeover that rejuvenates your smile – and your overall oral health.
Repair the side effects of teeth grinding with cosmetic dentistry >>
The Opportunity to Improve Your Smile
Besides the boon to your oral health and overall well-being that twice-annual dental visits provide, you also have the opportunity at these appointments to talk to your NYC dentist about the best ways to enhance your smile. After all, living in Manhattan, the brass ring moves higher every day – an outstanding smile can help you get noticed, get ahead, and achieve the success you've long wanted.
Your NYC dentist Dr. Michael J. Wei is ready to help you find your best smile – health-wise and appearance-wise. Schedule your check-up and consultation today to get your customized smile makeover.