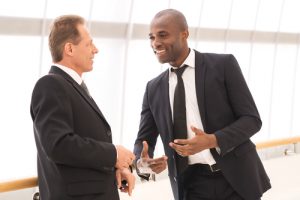 There are plenty of ways to improve your resume, but getting ahead in your line of work isn't always about continuing education or extra certifications. Your smile is a powerful asset. A smile makeover will be one of the smartest investments you ever make in your career.
5 Ways a Smile Makeover Can Change Your Career
If you've ever wanted to make yourself a more marketable job candidate, someone who gets noticed for all the right reasons, a good smile can be the path to success. Here's why:
You will look successful. You must dress for the job you want, right? Your teeth are a critical accessory. A white, straight smile shows others that you're accomplished, capable, and smart, even if you're just starting out in your career. You still need to deliver once you land the job or the promotion, but a flawless smile created with porcelain veneers or Invisalign plus teeth whitening screams success.
You'll make a great first impression. When you're vying for a coveted job, you will be up against other qualified candidates. The person with a genuine, good-looking smile is going to stand out from the pack. A broken-down smile can tank your job chances if you're reluctant to smile when you say hello or laugh at a joke.
You'll be memorable. You want colleagues and supervisors to think of you in a good way, and having an enviable smile will keep you top of mind when opportunities arise. When there is a promotion available or a top-level client or account being assigned, you and your always-at-the-ready smile will have you in the running for chances to shine in your career.
You'll be trustworthy. If your job has you in front of people every day, whether you're working in an office or out in the field, whether you're in front of a judge or a classroom of students, your appearance factors into your success. Want people to notice you? Listen to you? Believe you? A beautiful smile plays a major role in getting your message across. You don't want people to avoid your gaze because your teeth are broken-down or unsightly. You want them to get on board because your smile is that genuine and infectious.
You'll be confident. If you know you look good, your attitude will reflect this confidence. No matter what kind of career you have, believing in yourself, your worth, and your abilities is essential to moving up the ladder. When you are certain that you won't be embarrassing yourself by revealing bad teeth, you'll be more likely to voice your opinion, speak up, and show initiative.
Have Confidence in Yourself and Your Career
Seeing any of these happy patients in this smile gallery before their smile makeovers might make you think twice about trusting in their level of success or worthiness. Seeing them after their smile makeovers creates a very different feeling. They could be lawyers, retail workers, athletes, designers, plumbers, construction workers, teachers, or otherwise. You can't tell someone's career by their teeth, but you can see that they're worthy of success if their smile tells you so.
Get on the right track to your career in Midtown Manhattan. Visit Dr. Michael J. Wei to learn about what's possible for your smile makeover, and the next step in your career. Contact us to schedule a visit at our office on Madison Avenue.