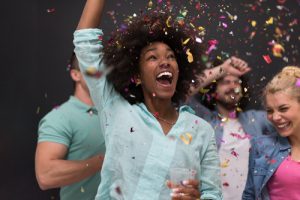 Even if you aren't a fan of New Year's resolutions, you may find yourself thinking about how you can do things differently in the new year. One of the common denominators to improving yourself, finding love and happiness, and achieving greater success is a perfect smile.
Find Love with a Perfect Smile
When you feel like your smile is far from perfect, you won't feel great about yourself. You won't post smiling photos to your dating profiles. You'll be reluctant to offer a full smile when you're flirting or meet someone new. You will find yourself feeling awkward about a first date or a first kiss.
Too many people prevent themselves from finding love because they are so self-conscious. If it's your teeth that are holding you back from making a love match, you can change that. Stains and discoloration can disappear with teeth whitening. You can revitalize your entire smile with porcelain veneers. Be good to yourself and give yourself every opportunity to find love.
Find Career Success with a Perfect Smile
Do you feel like you've plateaued in your career? Maybe you're an entry-level employee and you want to make a good impression or keep moving higher in your department. Perhaps you're an aspiring model or actor and your job is all about how you look.
In some careers, smile imperfections or quirks are considered an advantage. Other careers demand a pulled-together image with not a hair or tie or tooth out of place. Whatever your profession, a smile that's perfect for you will make all the difference in success and failure.
Find Happiness with a Perfect Smile
A perfect smile doesn't fix everything. Having a beautiful smile does, however, go a long way toward making life a whole lot more wonderful. Simply looking better in photos, or at least not being shy or embarrassed to be in photos because of your teeth, can keep you feeling positive about your appearance.
Too often, we are hard on ourselves for physical things – weight gain, bad hair days, an old wardrobe – and these are elements that can be changed. If a broken-down smile is on your list of characteristics you don't like about yourself, vow to get restorative dentistry to give you functional, pain-free smile that's beautiful too. Do you know how much happier you will be if you know that you look good to others and, most of all, that your reflection looks amazing to yourself?
Find Personal Fulfillment with a Perfect Smile
Appearances shouldn't matter but, in many settings, they do, especially when you live in New York City. How you choose to present yourself to a social group, stranger, colleague, or otherwise varies from situation to situation. If you're only self-conscious about your teeth in certain circumstances, you may find that a temporary cosmetic dentistry fix like a Snap-On Smile is just right for you.
Ultimately, you want to look your personal best. Whether you're making resolutions to get fit or healthy in the new year, make sure achieving a perfect smile is part of your self-improvement plan.
Find out what kind smile makeover is right for you. Schedule your appointment with Dr. Michael J. Wei at his Midtown Manhattan dental office on Madison Avenue. Get ready for an amazing new year with a gorgeous, healthy, natural-looking smile.