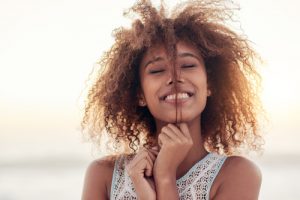 Give yourself what you really want this holiday season – something that can't fit in your stocking or be wrapped up with a bow, but will keep on giving day after day, year after year: a smile makeover. Cosmetic dentistry and restorative dentistry transform peoples' looks and lives, no matter what procedures you undergo.
Benefits of a Smile Makeover
When you make an investment in yourself, you want it to be worthwhile, to last, to deliver dividends. The benefits of a smile makeover are beyond compare.
Look younger. When you reach a certain age, any techniques that can turn back the clock are welcome. Upgrading your teeth will brighten up your face, detract from wrinkles, and some treatments (like porcelain veneers) can even plump out your lips.
Look healthier. You might be in excellent health, but sporting dingy, stained, discolored, decayed, or unsightly teeth will make you look anything but robust and capable. A professional teeth-whitening treatment can brighten your smile, even if your teeth aren't perfect. If you have an oral health problem like gum disease that is causing deterioration, addressing this complication creates the strong foundation necessary for any aesthetic upgrades that follow.
Look happier. When you're in love with your teeth and proud of them, you'll smile more. No more closed mouth in photos, no more straight face, no more serious expressions. Be proud of your teeth and let your smile out more often. That is a true path to happiness.
Gain confidence. If you're ashamed of the appearance of your teeth, your confidence will suffer as a result. If you get a smile makeover and change everything about your smile that you hate, your confidence will receive such a boost your entire life can change for the better. You'll be sure of yourself professional and personally.
What Procedure Should You Gift Yourself?
Some of the most impactful and popular dental treatments in a smile makeover include the following:
Teeth whitening: Whether you do it in the office or take customized trays home, when you have bright white teeth your entire smile will look like a million bucks. This affordable and fast treatment is popular because it's easy and it works.
Porcelain veneers: In for a penny, in for a pound – porcelain veneers aren't just fixing one or two things on your smile, they're remaking your entire grin. Veneers conceal every imperfection. The super-thin porcelain shields are customized in color, shape, size, and length to fit and flatter.
Cosmetic dental bonding: Want some fast, non-invasive fixes to a few bothersome teeth? Cosmetic tooth bonding covers up stains or chips or imperfections, sometimes even taking the place of a crown, using tooth-colored resin.
Dental implants: Missing teeth are a big problem, not only aesthetically but functionally. Over time, a mouth that is absent multiple teeth will begin to change its shape as the unstimulated jawbone deteriorates. Dental implants replace both tooth root and the crown of the tooth for a complete restoration above and below the gumline.
Get Your NYC Smile Makeover
Your Midtown Manhattan dentist's office is open and ready to help you achieve the smile makeover of your dreams. Contact Dr. Michael J. Wei today to schedule an appointment or submit a Smile Virtual request online for a virtual consultation to learn what's possible for your new smile.