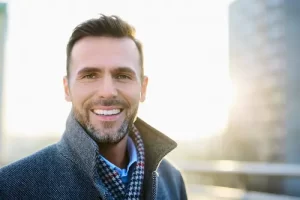 If you haven't made a resolution yet for the New Year, now is the time to think about what's best for you. Sometimes your choices are just as much about what you do as about what you do not do. Whether you already have cosmetic dentistry from your NYC cosmetic dentist or you're planning to pursue a smile makeover in the New Year, here are just some of the smile resolutions that can make a difference in how you look and feel about yourself.
1. Be Open to Change
Sometimes, the biggest thing that holds a person back from getting a smile makeover is the worry that they'll look different when all the work is complete. Well, yes, you will look different – but you'll look like the best version of yourself. Your teeth will be perfect and your smile will be stunning – no matter who you are or what line of work you're in, having upgraded teeth is a major benefit.
Be open to good changes in your life, especially when they're created by an experienced and talented cosmetic dentist. Fear holds too many people back from the things that can change their life. When you have a better smile, you'll be a better you and it will improve your world personally, socially, and professionally.
2. Take Good Care
How well you take care of your teeth makes all the difference in maintaining a healthy, beautiful smile. If you've undergone cosmetic dentistry, these procedures can feel like they're unstoppable and cannot be compromised, but you must do your part to maintain flawless teeth because they're not self-cleaning.
Brush at least twice a day and floss at least once a day to ensure that your smile stays white and healthy and that bacteria and plaque are kept at bay. It takes only a few minutes morning and night to maintain good teeth. You've already invested in them – keep the momentum going.
3. Break Bad Habits
The biggest threat to the health of your smile is how you behave and the choices you make. Yes, cosmetic upgrades like porcelain veneers and porcelain crowns are incredibly strong, but if you grind your teeth every night, chew on ice, or open packages with your teeth, you run the risk of damaging your smile makeover.
Other behaviors might seem innocuous, but if you rely too heavily on coffee or tobacco, even the most stain-resistant restorations can be compromised. Most of all, when you avoid visiting your NYC dentist every six months for a check-up and cleaning, your new smile is far less likely to have the kind of longevity it could.
4. Make the Appointment
If you haven't undergone a smile makeover yet but you've been thinking about it for a long time, this is the year to act. You don't have to reach a certain milestone or be in the right place for cosmetic dentistry. Schedule a consultation with NYC cosmetic dentist Dr. Michael J. Wei to discuss what you dislike about your smile and hope to change.
If you don't have time to go to the office yet, submit a Smile Virtual request online and receive a video response in return. Make the commitment to get the ball rolling so you can finally get the teeth that you want and transform your self-confidence in the New Year.