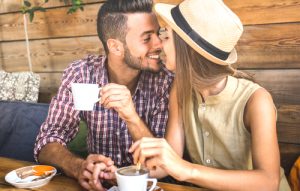 It's that time of year when people are thinking about the holidays ahead and whether they will have a special someone to share these important dates with. If you are having difficulty finding a love match, there comes a time to ask yourself why. Maybe you have it all together – fulfilling job, great friends, comfortable home – but the one thing that's missing is satisfaction with your appearance. Get a perfect smile and you may just find that nothing can hold you back from love.
Improve Your Online Dating Quotient
No matter what method of online dating you use, photos are required. Good photos. Consider the following:
Do you refuse to smile for pictures?
Do you smile with your mouth closed to hide your teeth?
Do you have a hard time finding good photos because of weird smiles?
Are you embarrassed about how your teeth look in photos?
Have you tried to edit photos with filters to make your teeth look better?
If you answered "yes" to any of these questions, it's time to consider a smile makeover to improve your online dating photos and selfies. If you feel like your smile isn't good enough digitally, you certainly won't be able to hide it when you meet a match in person.
Attract Love with a Perfect Smile
Perfection is subjective. Your teeth don't have to look like celebrity teeth to land you the love of your life – but it certainly doesn't hurt to sport a VIP smile if you can swing it. Here are just some of the tweaks you can choose to upgrade your smile and make yourself look more attractive:
Teeth whitening: Whiter teeth look better all around, even if they're crooked, gapped, or otherwise imperfect. Whiten in your dentist's office in an hour or in the comfort of your own home with customized whitening trays.
Cosmetic tooth bonding: Spruce up unsightly, misshapen, stained, or damaged teeth with cosmetic tooth bonding. The repair is fast, non-invasive, and contributes to nearly flawless grin.
Porcelain veneers: If you know your smile needs major help, there is one cosmetic dentistry procedure that can get every aesthetic issue corrected at once. Veneers conceal every imperfection in your smile to give you teeth that look natural and are flawless in every way.
Boost Your Confidence with a Smile Makeover
Confidence is an integral ingredient when it comes to finding love. No matter how you meet a match – online or in person, through a matchmaker or a blind date – you only get one chance to make a first impression. If you believe in yourself and your appearance, you will be that much more appealing.
A perfect smile can make you look healthier, happier, younger, smarter, and even wealthier. Choose cosmetic dentistry to help you be the person you want to be so you can find the person you're meant to love.
Get help from Manhattan dentist Dr. Michael J. Wei. Schedule your consultation at his Midtown office, or submit a Smile Virtual request online from the comfort of your home.