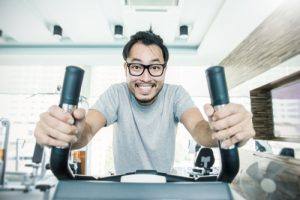 When it comes to cosmetic dentistry, there is something for everyone, depending on your smile goals, budget, and level of comfort at the dentist. Microthin veneers are a newer dental innovation that have minimized the invasiveness of the traditional veneer procedure and opened this smile makeover to many more patients.
Wonder if you're a good candidate for Microthin veneers, or porcelain veneers of any kind? See if you fit into any of the following categories.
1. You don't like smiling for photos.
If you're someone who has always enjoyed having their photo taken but lately you've been feeling self-conscious about it, ask yourself why. Are you embarrassed by the appearance of your teeth? This is a reality for many people, but you don't have to smile with your lips sealed tightly shut or offer up a straight face instead.
When you get veneers, they correct everything you dislike about the look of your teeth. From chips to cracks to discoloration to gaps to misalignment, if you want perfection, veneers can deliver. You'll be taking and posting more selfies than anyone knows what to do with when you're proud of your smile.
2. Your smile makes you look older.
Is your smile spotted with stains, discoloration, or other aesthetic problems? Issues like these can make you look much older than you are, but Microthin veneers can fix every cosmetic concern that ages you. No matter what kind of veneers you may opt to get, you can look younger, healthier, happier, and even smarter because of the upgrade.
3. Your braces didn't "take."
Many people wear braces as adolescents, end up with a beautiful, straight smile, then neglect to wear their retainers as directed. More often than not, this will result in teeth shifting back to where they originally were – crooked, gapped, overlapping, or otherwise. If you want straight teeth again but you're in no position to go through orthodontic treatment, veneers create a perfectly aligned smile.
4. Your smile is narrow.
There are elements to your smile that may seem irreversible. They're something you were born with and that are just part of your DNA. Except, cosmetic dentistry has made it possible to change the features you used to just have to live with. If you have a narrow smile, with teeth that are small and stacked up behind each other, leaving dark spaces on the sides of your mouth, Microthin veneers will broaden your smile.
Veneers are customized for every tooth on which they're placed. Their length, thickness, size, shape, and color are personalized to develop the smile that you want. That narrow smile will disappear with veneers that are carefully constructed to complete your smile.
5. You have a gummy smile.
A gummy smile has a major side effect – small teeth. With a minimally invasive laser gum lift, that excess gum tissue can be trimmed away permanently, revealing more tooth enamel. Cover your smile with veneers after this treatment and you will have such a stunning smile makeover you'll be amazed that it was so easy to achieve.
Find out whether you're a good candidate for Microthin veneers or another type of smile makeover. Schedule your consultation with NYC cosmetic dentist Dr. Michael J. Wei or submit a Smile Virtual request to get things started.