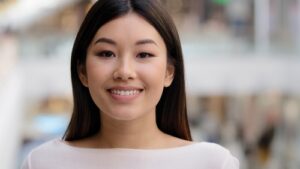 You don't need a good excuse to get the smile makeover you've always wanted. There are plenty of good reasons to get cosmetic dentistry or restorative dentistry right now. The most important reason, of course, is because you want a healthy smile that works properly and looks amazing.
1. You're embarrassed by your crooked teeth.
If you didn't have braces in adolescence, or didn't wear your retainer as instructed after orthodontics, you've discovered that crooked teeth can cause a lot of problems. Embarrassment is one of the biggest – you don't want to reveal your teeth because of their alignment, and you may be reluctant to speak up or smile. A metal mouth is not appealing as an adult, understandably, but porcelain veneers are certainly a viable option.
Veneers are customized in size, shape, color, and length so they cover up crooked teeth and any other cosmetic complaints you want to conceal. Within two visits to your New York City cosmetic dentist, your smile will be flawless, straight, and healthy.
2. All you see are stains and discoloration.
One of the first things people do when they decide it's time to address the stains and discolorations on their smile is to head to the dental care aisle at the local pharmacy. Every box and package in that section promises to work miracles on tooth enamel, and while some of these products can slough off surface stains briefly, they cannot deliver permanent solutions. What does offer a long-term whitening? Dental care from your Manhattan cosmetic dentist.
The options are many when it comes to stains and discoloration. The solution depends on the nature of your problem. Surface stains can be easily remedied with professional teeth whitening, while deeper stains that cannot be whitened will require more significant cosmetic dentistry repairs such as porcelain veneers or dental crowns. The good news is that whatever smile makeover you invest in, it will last, far longer than any over-the-counter option promises.
3. You are living with pain and discomfort.
Mouth pain and tooth pain are a problem, no matter what the circumstances. Your mouth and teeth should never hurt if your oral health is in good condition. Sometimes, a smile makeover calls for dental restorations as well as cosmetic upgrades, especially if it is determined that you are suffering from gum disease, tooth decay, or any other infections.
If you have a broken-down smile, it may look just fine on the surface, but underneath it is deteriorating. Either way, it's critical to have every pain and pinch addressed by your family dentist to determine what's going on with your oral health and to make a plan that, over time, will rebuild your smile into a strong, healthy version of itself. This might include tooth-colored fillings, root canal therapy, porcelain crowns, dental implants, and several types of cosmetic dentistry.
Get Your Smile Makeover Started Now
You don't need to know before you visit your dentist what kind of smile makeover you want. It's the expert's job to help guide you to the right choices for your unique needs and budget. Schedule a consultation with Dr. Michael J. Wei in NYC to talk about your smile makeover options, or submit an online Smile Virtual request to get started.