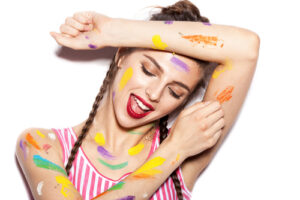 When you have decided that you want a smile makeover using porcelain veneers, there are a few big questions to answer. Which NYC cosmetic dentist will you choose to create the new you, and what color should your teeth be? Contrary to popular belief, bright white is not the only color of porcelain veneers – in fact, sometimes it's a completely wrong color.
The Colors of Porcelain Veneers
Wedding gowns come in all shades of white, cream, candlelight, silver, and beyond. They are all beautiful, and they are ideally chosen because they match perfectly to the bride in color and design. Porcelain veneers are the same – they come in colors from light to bright to ivory to brilliant. Each shade of veneer is tagged to identify its unique characteristics, and there is one color that is just right for you.
Porcelain veneers can be bright white and, for some people, this is the right color of teeth. Others, though, need a smile makeover that blends in subtly and doesn't stand out because it's blindingly white but because it's flattering and attractive in any shade, especially for your age and gender.
What to Consider When Selecting Veneer Color
You and your NYC cosmetic dentist will go over all the characteristics of your veneers and sketch them out so you get a complete picture of what your new smile will look like. There are several characteristics that affect color, including:
Your natural teeth: When you get prepless veneers – the version of this cosmetic dentistry treatment that doesn't require the removal of tooth enamel – their thinness means the color of your veneer will be impacted by the color of your natural teeth underneath. If you have yellowish teeth, you might need a soft white veneer. If you have gray enamel, your veneers may need to be more opaque. Don't focus on the name or position of the color of a veneer, just focus on how it looks on your smile.
Translucency and value: Translucency is the characteristic that lets light pass through the porcelain and allows the veneer to reflect light, just like a natural tooth. Value is the brightness of veneers. These features must be carefully balanced to allow for natural shine and not dullness, and so they blend flawlessly with the color of your veneers.
Facial characteristics: There are elements beyond your teeth that impact the level of whiteness in your veneers. Your cosmetic dentist is also looking at your skin tone, the whites of your eyes, and the shape of your face and smile. You want every element to complement each other, not stand out on its own and draw attention to itself.
Get Prepless Veneers in NYC
A white smile can be achieved through many different smile makeovers, especially those that include professional teeth whitening, porcelain crowns, or prepless veneers. Find out how to get the bright, beautiful smile you want in the most appropriate, long-lasting way from Dr. Michael J. Wei, NYC cosmetic dentist in Midtown. Schedule a consultation and find out if you're an excellent candidate for porcelain veneers.