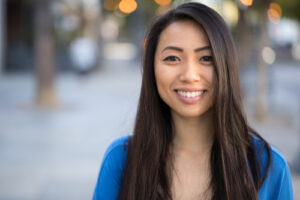 If you could change your smile with one NYC cosmetic dentistry treatment, if you could make a difference in your appearance in one amazing way, wouldn't you? Most people who have long been unhappy with the look of their teeth would say yes – so it's time to find out what your NYC cosmetic dentist can do to transform your smile and your life.
Tweak Your Smile with a Powerful Illusion
Some people avoid cosmetic dentistry because they're concerned about invasiveness or cost. There is one procedure, however, that is non-invasive and affordable, and it can change your teeth so they have the illusion of perfection (even if they're not). That one treatment is professional teeth whitening.
A powerful bleaching solution is customized to transform stained and discolored teeth so they shine bright and white. Teeth are, in fact, several shades whiter. Even if you have a few gaps, crooked teeth, or other imperfections, when teeth are white they look like they're flawless. This could be the one NYC cosmetic dentistry treatment you need to tweak your smile.
Correct Your Smile in Pieces
One cosmetic dentistry treatment that masterfully corrects a flawed smile is the porcelain crown. Some people have a tooth that is a completely different color or shape than the rest of their teeth. It stands out, and not in a good way.
Getting a customized dental crown to conceal imperfections may be all the smile transformation you need, whether it's one crown to whiten a stained tooth or two crowns to build up short or misshapen teeth. The crowns are personalized in color, shape, and size so they blend in with the rest of your smile and deliver perfection.
Fix Everything with One Cosmetic Dentistry Treatment
If you have multiple aesthetic complaints about your smile, there is one truly magical NYC cosmetic dentistry treatment that will change everything when it's carried out by an experienced and talented Manhattan cosmetic dentist – minimal prep veneers. Minimally invasive and customized to each patient, veneers are built out until they flatter your smile and complement the rest of your appearance.
Each tooth is covered with a veneer – usually the top six to 10 teeth depending on the condition of your teeth – and carefully crafted into a gorgeous smile that works well together and gives you the Manhattan smile perfection you've always dreamed of, that you've seen on the people you pass in the streets. A VIP smile isn't reserved for VIPs alone. You can have a star smile too.
Find Your NYC Cosmetic Dentistry Smile Makeover
Everyone's smile makeover is unique to them. If you're unhappy with your teeth, it's time to figure out how you can make a change. Schedule a consultation with Dr. Michael J. Wei at his Midtown Manhattan office to learn about all the dental care that's available, what works for your budget and wish list, and what is possible to transform your look.