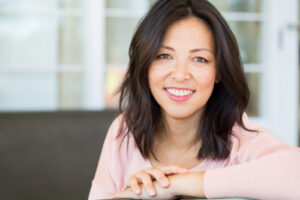 Wish you could upgrade your teeth with just one or two cosmetic dentistry treatments? Do you feel like you just want to transform, shall we say, Everything Everywhere All at Once? The title of this year's Best Picture is a bit of an earworm and it might just have you wishing there was a way to make a difference to your smile. Spoiler alert: You can, with porcelain veneers.
Proof of Perfect Porcelain Veneers
When a film wins Best Picture as well as three acting honors at the Academy Awards, all that love is a sign that someone's doing something right. When your NYC cosmetic dentist populates their Instagram account and Smile Gallery with before-and-after photos of satisfied patients, there's something right going on there too. What do many of those patients have in common? They've said yes to porcelain veneers.
Here are just some of the stories of satisfied patients who have seen their teeth transformed with the help of porcelain veneers, prepless veneers, or Microthin veneers:
Their lives are refreshed thanks to their customized smile makeovers, and now they can smile for photos and selfies and videos without any self-consciousness. Because truly, there is nothing to be embarrassed about. Your teeth are the focal point of your face and when they look good, when they're straight and white, they make all the rest of you look amazing too.
Reasons to Get Veneers
Getting porcelain veneers is an excellent choice for so many dental patients because it satisfies so many smile complaints:
Fix all aesthetic complaints: Veneers really do have it all. They are designed to conceal whatever you dislike about the appearance of your teeth, no matter how big or small.
Achieve good alignment: If you've never had braces but have always wanted straight teeth or to eliminate gaps, veneers cover up imperfections and deliver a smile that looks like it was always flawlessly aligned.
Make all your teeth match: Even if you don't get a large number of veneers, your dentist may recommend professional teeth whitening on untreated teeth so they blend in with the veneers, leaving you with a smile that is consistent across the board.
Enjoy easy maintenance: Your veneers don't expect anything from you other than basic but dedicated oral hygiene. Brushing twice a day, flossing once a day, and seeing your dentist every six months for a teeth cleaning will keep them stain proof and looking perfect.
Get Every Smile Need Addressed in NYC
Whether you spend a lot of your life on film or whether you just wish you did, there's nothing wrong with wanting to have it all, including a gorgeous, healthy smile that grabs attention in all the right ways. Schedule a consultation with Dr. Michael J. Wei or submit a Smile Virtual form to get a personalized response with suggestions and recommendations. Contact us to make an appointment.