Naftali never liked his smile and he was concerned about the health of his teeth. He had lots of faulty restorations, discoloration, and damaged chipped teeth. He was very embarrassed about his smile because he sees lots of clients everyday. He wanted a smile makeover to boost his confidence. We were able to achieve this by giving him porcelain crowns, porcelain veneers, and a porcelain bridge. He is very happy with his smile and gets compliments from family, friends, and co-workers.
Problems
Bad Bite
Cavities
Crooked Teeth
Crossbite
Crowded Teeth
Damaged Fractured Teeth
Discolored Teeth
Enamel Defects
Misaligned Teeth
Old Faulty Dark Bondings
Old Faulty Fillings
Silver Mercury Fillings
Teeth Not Proportional
Tooth Decay
Uneven Gums
Uneven Smile
Worn-Out Smile
Solutions
Laser Gum Reshaping
Porcelain Bridges
Porcelain Crowns
Porcelain Veneers
Smile Makeover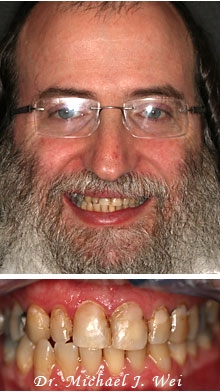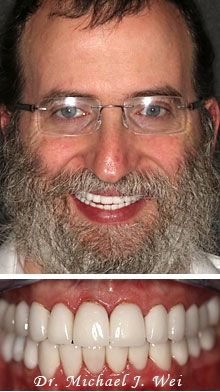 Slide the blue tab to the left or right to view the before and after images.