What an incredible smile transformation. I really love how this is life-changing.
My patient Rido had not been to the dentist in 25 years and smokes 1 pack a day. He said his wife hadn't kissed him in over 25 years because of his teeth. He had fears about going to the dentist ever since he had a bad experience as a kid. His wife is a patient of mine and she was the one who encouraged him to come in and see me.
I was able to effectively communicate with him and earn his trust in me. I walked him through the treatment plan and explained to him step by step what I needed to do to restore his dental health.
I did a full mouth reconstruction on him. Amazingly enough, I was able to restore all his upper teeth with porcelain crowns without having to do any root canals or extractions in the upper teeth. When he came back for a check-up, he told me that he quit smoking, had started eating better and exercising, and had lost some weight. The smile makeover gave him a huge boost of confidence and now he has a much brighter outlook on life.
He told me that he can't believe all the compliments he has been receiving daily. He thought this would never happen to him and how a healthy and gorgeous smile can make a difference. He is enjoying his life more now and his wife had started kissing him again. He expressed so much gratitude to me for what I did for him.
It's really wonderful to witness such a dramatic life transformation in a person. I'm grateful when I have an opportunity like this where I get to change people's lives.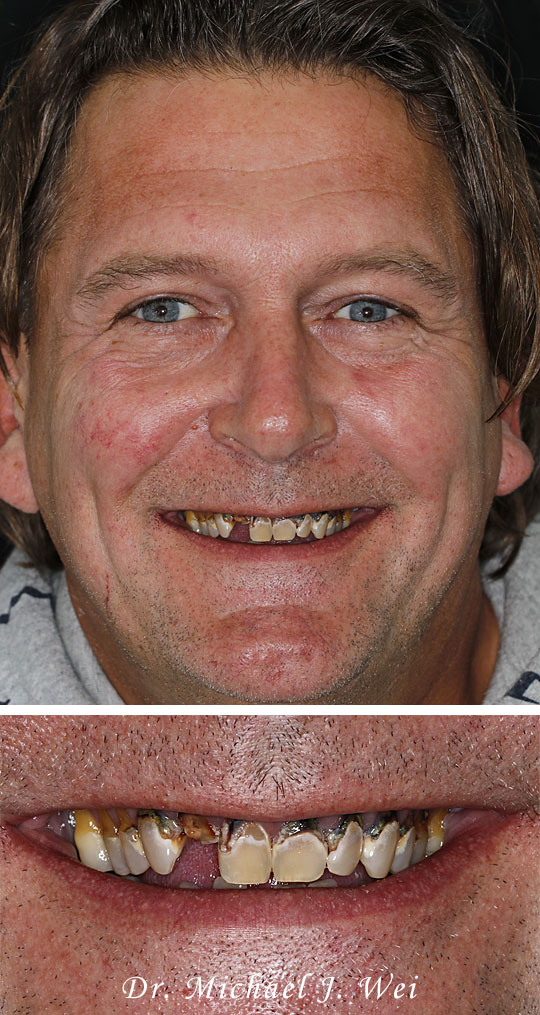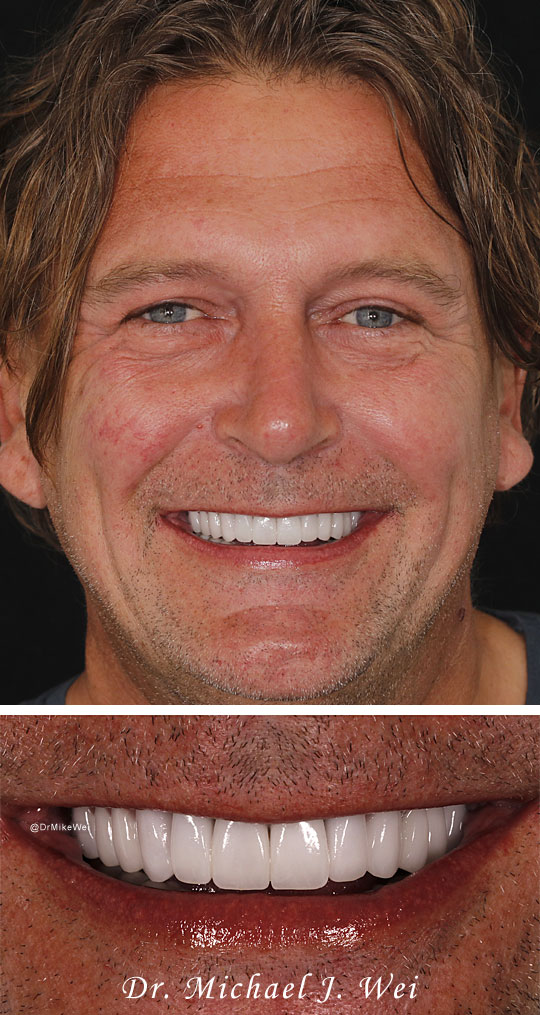 Slide the blue tab to the left or right to view the before and after images.
Problems
Bad Bite
Cavities
Crooked Teeth
Crossbite
Damaged Fractured Teeth
Dark Line Around Tooth
Discolored Teeth
Enamel Defects
Enamel Erosion
Midline Off
Misaligned Teeth
Narrow Upper Arch
Old Faulty Fillings
Spaces Between Teeth
Teeth Not Proportional
Tooth Decay
Uneven Smile
Worn-Out Smile
Solutions
Laser Gum Reshaping
Porcelain Bridges
Porcelain Crowns
Porcelain Veneers
Smile Makeover
Tooth-Colored Fillings