Nicole was concerned about her smile and felt that this would have a negative impact on her wedding day. She was always hesitant to smile. She didn't like her dark, stains, short, crooked teeth. She didn't like the shape and size of her teeth as well. She felt like her smile was uneven and worn-out. We were able to give her the bright, white, gorgeous smile she always wanted. Her brand new smile increased her self confidence and she is now ready for her big special day. Nicole loves her dazzling smile . It brought back her self confidence and now she wants to do all her bottom teeth too.
Problems
Bad Bite
Crooked Teeth
Discolored Teeth
Enamel Defects
Enamel Erosion
Gum Disease
Gummy Smile
Misaligned Teeth
Reverse Smile
Short Small Teeth
Teeth Not Proportional
Uneven Gums
Uneven Smile
Worn-Out Smile
Solutions
Gum Lift
Periodontal Treatment
Porcelain Crowns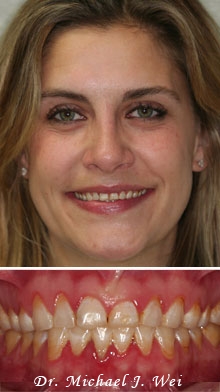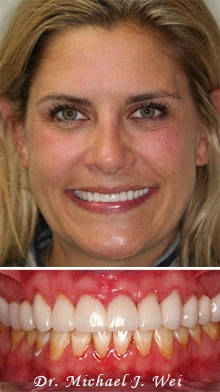 Slide the blue tab to the left or right to view the before and after images.