Roberto came into our dental office because he had several issues with his teeth: He had congenitally missing upper 2 lateral incisors (the teeth that are suppose to be next to your two front teeth), which caused his 2 canine teeth to shift into the place where the lateral incisors are suppose to be; his two front teeth were noticeably larger than the others, and he had yellow, stained, dark teeth. He never liked his upper oversized two front stained teeth and was always embarrassed to smile. He complained that his smile doesn't look attractive and vibrant. He wanted a nicer, whiter, and brighter smile. By using 8 porcelain veneers, we were able to give him a brighter and whiter smile to boost his confidence. Now he is very happy with his new smile and he gets a lot of compliments from his co-workers, friends and family.
Problems
Crooked Teeth
Discolored Teeth
Misaligned Teeth
Missing Teeth
Spaces Between Teeth
Teeth Not Proportional
Tooth In Wrong Position
Uneven Gums
Uneven Smile
Worn-Out Smile
Solutions
Laser Gum Reshaping
Porcelain Veneers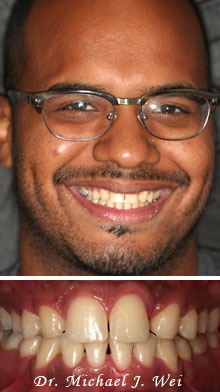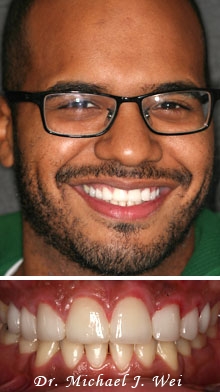 Slide the blue tab to the left or right to view the before and after images.