Melody wanted a brighter, whiter, and straighter smile that she always dreamed about. She used to walk around embarrassed of her smile. She disliked her discolored, crooked, and misaligned teeth. She especially did not like her old faulty, bulky, dark color lower dental porcelain bridge. We were able to fix her smile in 2 weeks by giving her 16 porcelain veneers and 4 porcelain crowns. Now she has regained her confidence and can smile easily. She loves to show her new beautiful smile.
Problems
Bad Bite
Cavities
Crooked Teeth
Crossbite
Damaged Fractured Teeth
Discolored Teeth
Fractured Restorations
Misaligned Teeth
Old Faulty Porcelain Bridges
Old Faulty Porcelain Crowns
Teeth Not Proportional
Uneven Smile
Worn-Out Smile
Solutions
Porcelain Crowns
Porcelain Veneers
Smile Makeover
Tooth-Colored Fillings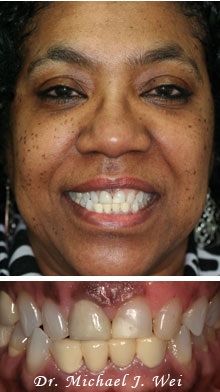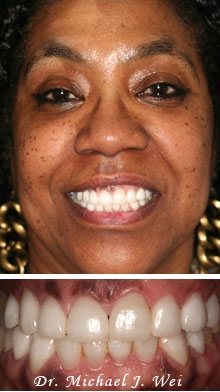 Slide the blue tab to the left or right to view the before and after images.