Ted presented to us with aesthetic concerns about his teeth. Besides the aesthetic concerns, we also had to address the many issues concerning the health of his teeth and gums. He had multiple issues which were corrected by doing extractions, gum lift, tooth colored fillings, porcelain crowns, and porcelain bridge. He is extremely happy with the results of his smile makeover. He says he cannot stop smiling everyday.
Problems
Bad Bite
Black Triangle
Cavities
Damaged Fractured Teeth
Dark Line Around Tooth
Discolored Teeth
Fractured Restorations
Misaligned Teeth
Missing Teeth
Narrow Upper Arch
Old Faulty Fillings
Old Faulty Porcelain Bridges
Old Faulty Porcelain Crowns
Reverse Smile
Silver Mercury Fillings
Teeth Not Proportional
Tooth Decay
Uneven Gums
Uneven Smile
Worn-Out Smile
Solutions
Gum Lift
Porcelain Bridges
Porcelain Crowns
Smile Makeover
Tooth-Colored Fillings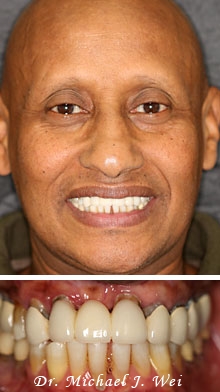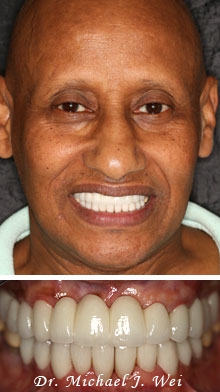 Slide the blue tab to the left or right to view the before and after images.